Tanoa Samoa joins the Family of Sponsors for the Pacific Games 2019
The Pacific Games Office is pleased to announce that Tanoa Samoa Clothing Co. has joined as the Official Retailer of the Samoa 2019 XVI Pacific Games.
The announcement was made at a brief signing ceremony earlier today, by the Chairman of the Pacific Games, Loau Solamalemalo Keneti Sio and the Managing Director of Tanoa Samoa, Taupa'ū Bruce Leiataua.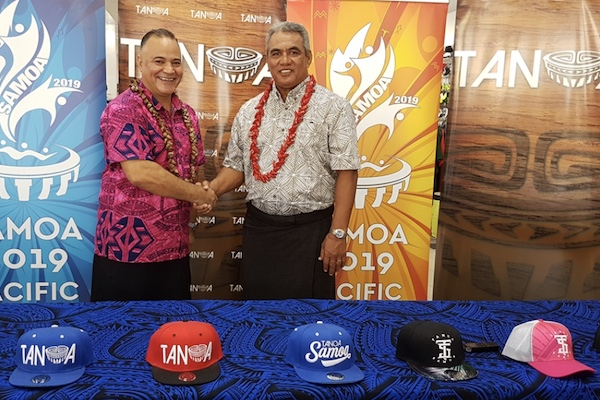 Taupa'ū Bruce Leiataua, Managing Director of Tanoa Samoa and the Chairman of the Games Organising Committee, Loau Solamalemalo Keneti Sio shake hands after signing Tanoa Samoa on as the Official Retailer of the Games.
Speaking at the signing, Loau conveyed the Government and the Organising Committees' gratitude for Tanoa Samoa's generosity.
"We have been extremely blessed to have the love and support of our people, local businesses and Government agencies," said Loau.
"Tanoa Samoa signing on today to be part of our family of sponsors is continuous proof of that support. So on behalf of the Government of Samoa and the Organising Committee, I would like to say faafetai tele lava to Tanoa Samoa's management and staff, for reaching out and offering to support the biggest sporting event of the year. May the good Lord bless you for all you're giving for the Games."
Read more:
Managing Director of Tanoa Samoa, Taupa'ū Bruce Leiataua spoke on behalf of Tanoa Samoa to reaffirm their support and deliver their well wishes for the Games.
"We at Tanoa Samoa are very excited to be a part of the biggest and most anticipated sporting event in the region, particularly as it will showcase Samoa and the sporting talents of our people. When we first came into business, our focus was to bring local Samoan and Polynesian artists' designs to life through clothing, and we have done just that. We have been blessed over the years with the expansion of our business in the Pacific Region including New Zealand and Hawaii and we wish to share these blessings with our people. With this partnership, we hope to give back to our community through our support for the upcoming Games in July."
Tanoa Samoa was created in 2009 with its flagship store in Apia opened in 2013. Tanoa Samoa sells a variety of clothing and footwear, casual and formal, made and inspired by Polynesian people.
The sponsorship package from Tanoa Samoa is valued at ST$100,000.
For more information contact: media@samoa2019.ws