ACC joins our family of sponsors as a 'Friend of the Games'
This week, the Pacific Games Office signed a Memorandum of Understanding with the Accident Compensation Corporation (ACC) and received $100,000 in support of the Samoa 2019 XVI Pacific Games in July.
The Chairman of the ACC Board of Director, Leo'o Tautalatasi Dr. John Adams spoke on behalf of the Board as well as the Management and Staff to deliver their support and well wishes for the Games.
"The Board of Directors, Management and Staff are excited to be on board to support the Government of Samoa host a successful Pacific Games," said Leo'o.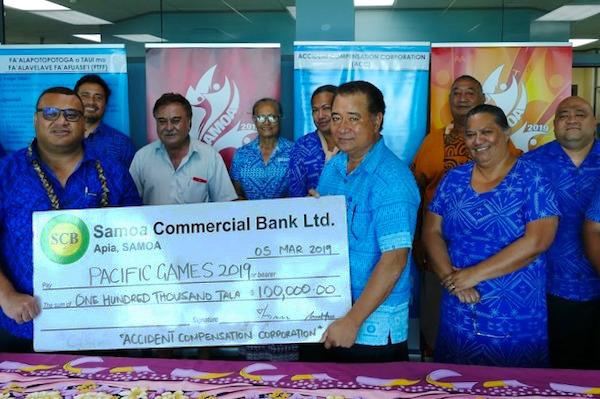 ACC Board Chairman, Leo'o Tautalatasi Dr. John Adams hands $100,000 cheque to Director of Sponsorship, Tagaloa Fouina Su'a.
"I know it's not much, but we hope that this will help the Organising Committee's preparations to host the biggest event Samoa stands to host for 2019. Not only that, but we offer our shoulder in support of the fact that Sports is one of the main cures for non-communicable diseases, one of the deadliest diseases plaguing Samoa and our fellow Pacific Island nations. If we can help make that happen, then great! And we look forward to seeing all the wonderful returns that the Game will bring for Samoa and its economy."
The Accident Compensation Corporation joins the family of Sponsors as a Friend of the Games. ACC is a government agency that operates a system which aims to prevent accidents, assist as much as it could towards the rehabilitation of victims injured by accidents and provides financial compensation to persons affected as a result of accidents covered by this arrangement.
Read more
Director of Sponsorship Tagaloa Fouina Su'a thanked ACC for its generosity and kind support on behalf of the Chairman and the Organising Committee.
"Thank you for coming on board to help us prepare for the Games in July. We acknowledge the important role that ACC plays in the lives of athletes and workers living in Samoa. And we hope the Pacific Games as a platform helps ACC to spread the message about the services it offers."
The Pacific Games Office continues to be the key focal point for all matters relating to Samoa 2019 and continues to work alongside the Organising Committee Directors to ensure a successful Games this year.
Our sponsors