Samoa Shipping Corporation is named Gold Sponsor
(Press release); The Pacific Games Office is pleased to announce Samoa Shipping Corporation as a Gold Sponsor.
The Chairman of the Pacific Games Committee made the announcement today at the signing ceremony between the Samoa Shipping Corporation and the Pacific Games Office.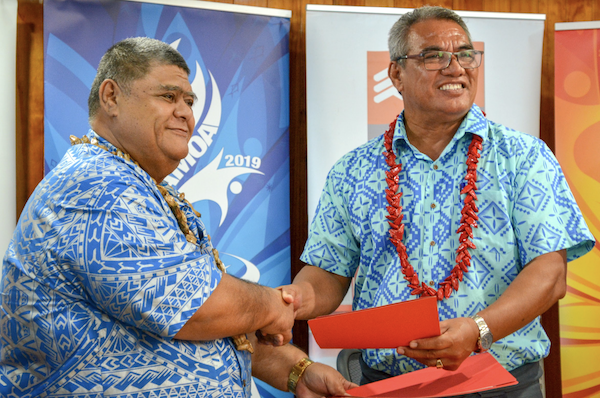 Chairman of the Pacific Games, Loau Solamalemalo Keneti Sio shakes
hands with Deputy Chairman of SSCs Board of Directors after MOU signing.

"I would like to thank the Minister, Board of Directors, General Manager and the management of Samoa Shipping Corporation for this kind donation. As the Minister for Sports, such assistance gives me great joy. The $500,000 that you have given in support of the Pacific Games is not a small amount, so I thank you for lending your shoulder to help us through the preparations for the games."
Established over 40 years ago by the Government, Samoa Shipping Corporation continues to provide efficient and reliable sea transportation. Located near the Marina, Samoa Shipping Corporation is the sole sea transportation service provider between Upolu and Savaii and Apia and Pago Pago.
Palea Vaalele Faaolotoi, Deputy Chairman of SSC's Board of Directors who spoke on behalf of the SSC said that the Corporation is excited to be on board to support the Pacific Games.
"We are extremely happy to support Samoa's preparations for the Pacific Games through the sport of boxing in the big island of Savaii. The Government has always believed that 'what's good for Upolu is also good for Savaii' and this will also be a great opportunity for the residents of Savaii to watch and be part of the games in the big island."
The sponsorship deal is valued at $500,000 and it marks a wonderful partnership between the two entities as well as the continuous success of an extensive sponsorship strategy set up the Pacific Games Office to garner financial support to assist with preparations for the Games from 7-20 July.
Our sponsors