Samoa Ports Authority announced as a Silver Sponsor
The Pacific Games Office is pleased to announce Samoa Ports Authority (SPA) as a Silver Sponsor for the upcoming Samoa 2019 XVI Pacific Games.
The announcement was made by the CEO of the Pacific Games Office, Falefata Hele Ei Matatia, at a brief signing ceremony this morning.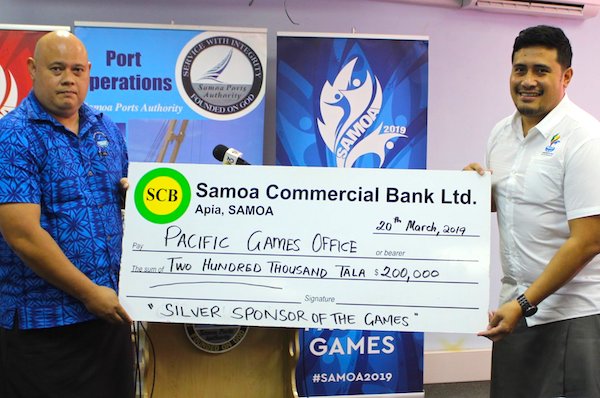 Samoa Ports Authority's Acting Chairman Tuatagaloa presents the cheque to Falefata Hele, CEO of the Pacific Games Office.
"We are excited to be here today to announce Samoa Ports Authority as a Silver Sponsor Games. On behalf of the Games Organising Committee and the Pacific Games Office, we'd like to thank the Minister for Samoa Ports Authority, Board of Directors, Management and staff for choosing to support this great cause. We are grateful and we look forward to seeing the Games continue to progress through this wonderful partnership. We also pray that God will replenish and bless all that you're putting into the Games for the betterment of Samoa."
Samoa Ports Authority manages the operations of the Apia International Port as well as maintenance and services of the Asau and Aleipata Slipway. SPA's mission is to develop and maintain Samoa's Port Infrastructure as well as provide a safe, secure, efficient and profitable port services.
Read More:
Acting Chairman of SPA's Board, Tuatagaloa Shane Wulf, who signed on behalf of SPA spoke in response to Falefata and said that they are extremely excited to be a part of the biggest event of the year.
"The Pacific Games is the biggest event of the year and Samoa Ports Authority is delighted to be part of such an auspicious occasion," said Tuatagaloa.
"This year, on the 1 July, SPA will celebrate its 20thAnniversary and so the Board and Management thought when asked by the Games Committee for support, that this will be the best way to mark this milestone for us. This partnership is also a great way for us to give back to the community, especially our stakeholders and port-users."
SPA's inclusion in the Family of Sponsors brings the total number of Government Agencies who are sponsoring the Games to four (4). The sponsorship package is valued at $200,000 and highlights the continuous outpouring of support from private and public partners towards the Games in July.
Our sponsors