SkyEye Samoa joins our Family of Sponsors
This week, the Pacific Games Office signed a Memorandum of Understanding with SkyEye Samoa recognising them as an 'Accreditation Partner of the Games.'
The announcement was made by the Chairman of the Organising Committee, Loau Solamalemalo Keneti Sio during a brief signing ceremony and the Games Office, Tuanaimato.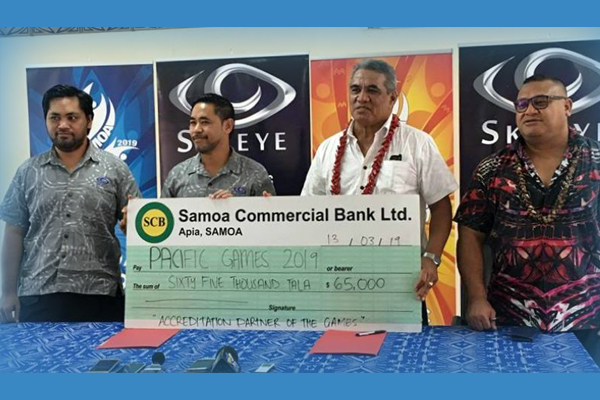 Samoa 2019 Organising Committee with SkyEye Samoa after signing on as an 'Accreditation Partner of the Games.'
"On behalf of the Government and the Organising Committee, I would like to thank Fa'aso'o and SkyEye Samoa for your generous support as well as offering your services to assist the Government in hosting a successful Games in July. The assistance that you and your company have given to the Games is greatly appreciated. $65,000 is not a small number, and for that, I thank you."
Read more
At the signing, SkyEye CEO, Fa'so'otauloa Sam Saili acknowledged the efforts and commitment made by the Government of Samoa to ensure a successful Games.
He also thanked the Organising Committee for allowing them to be a part of the team and added that they are excited to be on board and to assist the Pacific Games Office.
SkyEye is a locally based business run by the Saili Family. It provides vehicle tracking, drone technology, digital solutions to customers by way of mobile apps and new software developments in Samoa and other Pacific Island Countries.
The prospective sponsorship package is valued at $65,000 and this additional support highlights the continuous success that the Pacific Games is making in acquiring sponsorship from the public and private sector for the Games.
Our sponsors