McDonald's Family Restaurant joins our family of Sponsors
The Pacific Games Office is delighted to announce that McDonald's Family Restaurant has joined the family of Partners and Sponsors as a Silver Sponsor.
Speaking at the signing was the Chairman of the Pacific Games Committee, Loau Solamalemalo Keneti Sio who conveyed the Government's appreciation for the generous support given by McDonald's Family Restaurant.
"On behalf of the Government of Samoa and the Management of the Pacific Games Office, I would like to convey our sincerest gratitude to the Management of McDonald's Family Restaurant, one of the most renowned Fast Food Restaurants in the world.
We are grateful that you have lent your shoulder in support of the Pacific Games in July. I know it's not easy as I can see you have just made major renovations to your restaurant, however, you have still decided to support our Government by donating $200,000."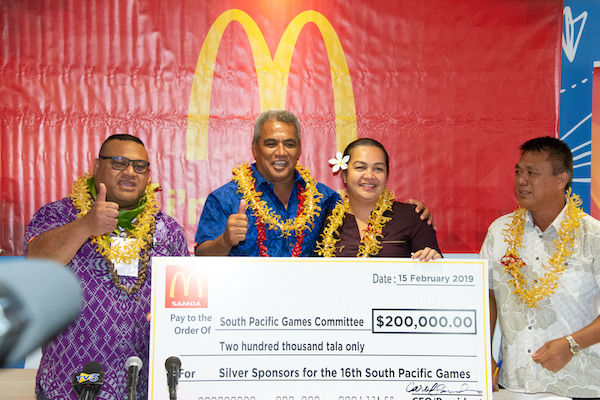 The Chief Financial Officer of McDonald's Family Restaurant, Fuimaono Pemerika Suemai who spoke on behalf of the General Manager Tautolo Aogaleatu Charlie Tautolo, Management and staff also highlighted their excitement on being part of the Games.
"We at McDonald's Family Restaurant know that the Games will be a great source of blessing for restaurants, hotels, transport and other sectors of Samoa's economy because athletes and supporters will be traveling over and spending money that will contribute directly to our country's economy.
With that being said, McDonald's Family Restaurant is not only looking at the many benefits the games will bring, which is why we want to give in our contribution to assist with this great Government initiative. We won't say much more, but our prayer is that God will bless this initiative and may Team Samoa win many medals for Samoa."
The sponsorship deal is valued at $200,000 and having another sponsorship partner added to the family of sponsors continues to outline the success of an extensive sponsorship strategy set up by the Pacific Games Office for the Pacific Region's largest quadrennial games.
The Pacific Games Office continues to be the key focal point for all matters relating to Samoa 2019 and continues to work alongside the Organising Committee Directors to ensure a successful Pacific Games.
Our sponsors