Queen of Boxing crowned as Samoa dominate finals day on Savai'i
Faasu Loia was crowned Samoa's Queen of Boxing as the host nation won seven gold medals on finals day at Don Bosco College in Savai'i.
The crowd were on their feet, cheering, as Samoa's Prime Minister, Tuilaepa Sailele Malielegaoi presented her gold medal in the 69-75kg women's middleweight after she defeated Tahiti's Heiura Nena.
The daughter of Faiaimoa and Galuafi Loia from the villages of Siumu, Saaga and Lalomanu, was the only Samoan woman in the finals.
It was a day of festivity and celebration on the big island. Instead of the instrumental national anthem playing for the medal ceremony, the Associate Minister for Ministry of Communications Information and Technology, Lealailepule Rimoni Aiafi, sang it as the flag was raised for Loia's win.
The commentator for the ceremony, Tagaloa Sua Faafouina, Games Director of Sponsorship described her as the 'queen' of boxing for Samoa.
Read more: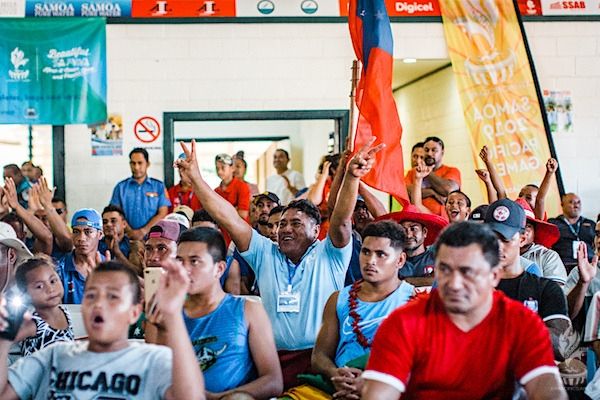 A week of competition in front of big crowds on Savai'i (Trina Edwards/Pacific Games News)
"I'm just speechless and overjoyed…I just don't know what to say," said the 22-year-old. " Boxing has changed my life and I've made close friends who I now call family."
Loia acknowledged the management team, her brothers competing alongside her in Team Samoa and her coach David Tua who was cheering from New Zealand for her.
"He's like a dad to me and he is my teacher. About three to four years ago, I wanted to try boxing for fitness, but then I just got into it. You just have to hit without being hit," she said. "My parents have fought for me to have a better future in New Zealand and also support me with my boxing. You have to never give up and just give it a go."
The crowd were on their feet cheering as every Samoan fighter took the ring and there wasn't an empty seat in the Don Bosco Hall. People stood outside with their umbrellas in the rain to watch the matches.
Savaii was on fire. Chants drowned out the MC. Samoan flags flew and some of the supporter were so overjoyed they lifted their shirts up to show their Samoan tatau or tattoo.
The day ended with performances by the Don Bosco students for athletes and spectators as celebrations continued.