Competing in Boxing a special occasion for two young brothers from Niue
Boxing was a lifesaver for a young Niuean boxer competing on Savai'i in the Samoa 2019 Pacific Games.
Growing up in New Zealand, Bravely Mata'u was bullied at school. Boxing helped him learn self-defence and his confidence grew.
His mother was from Niue mother and his father is Samoan, from families who migrated to Aotearoa for better opportunities like a lot of Pacific Islanders.
"I was usually getting picked on at school so my parents took me to boxing classes for self-defence," he said. "I was a chubby boy and kids usually made fun of me."
He continued: "I started competing at 12 and look at me now, I'm here at the Pacific Games at the age of 22."
His brother, Zalmon, is fighting alongside him for Nuie. Being in Samoa is a special moment for the young men, returning to the place they also get to call 'home.'
"These matching tattoos are because we fought in Samoa two years ago at the Fight for Marist Tournament," said Zalmon. "It was our first experience in Samoa, something we could look back to and remember.
"These aren't just tattoos - they represent our family in Samoa. The struggles that we have overcome by moving countries, it wasn't easy. It feels great this third time in Samoa and first time on Savaii."
The Mata'u's currently live in Australia and embrace both their Samoan and Niuean heritage and cultures.
It is who they are.
Read more: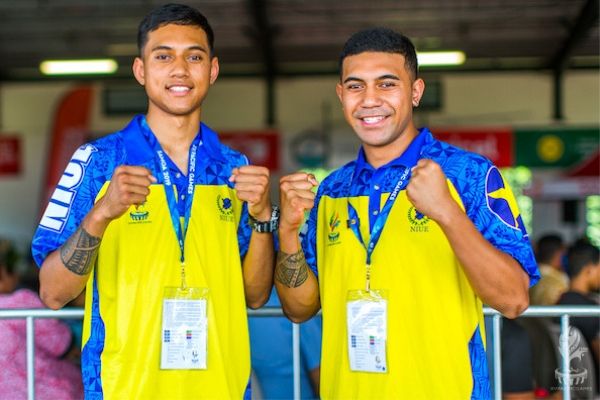 The Mata'u brothers are competing for Niue in 2019 (Pacific Games News)
"For God, country and family is why we are here. Put our country on the map, to make the Commonwealth Games and other big tournaments.
"We will always choose both countries and have represented Niue and Samoa in the sports that we have competed in, playing Under 20s Rugby League and Rugby for Samoa."
They acknowledged the people who have supported them, especially their grandmother Sapeta - to work hard and become better.
"With all the work that we have put in this, our motivation was our grandmother."