First day of Boxing on Savai'i watched by a big enthusiastic crowd
Samoa's rising boxing star, Ato Plodzicki-Faoagali is going for gold in the lightweight (81kg) division at the Samoa 2019 Pacific Games.
"I'm still trying to wrap my mind around the ring and the environment, the atmosphere," said Plodzicki-Faoagali after beating Lucas Wakore from Papua New Guinea in his first bout of the tournament. "Samoa we on. I'm onto the next one and I need to concentrate on the fight. I just have to keep going and keep fighting."
He's the light heavyweight champion of Samoa and won silver at the Commonwealth Games on the Gold Coast in 2018.

He spoke about his preparation and aspirations for the Pacific Games earlier in the year.
There was some top action at first day of the 3 day tournament at Don Bosco College in Saleloga on Savai'i, yesterday, in front of a big, loud and very lively crowd.
There were two sessions on the first day of and it was a full house for both. People stood outside the hall, all seats were taken and the organising team kept adding more chairs for the spectators as the crowd grew.
Read more: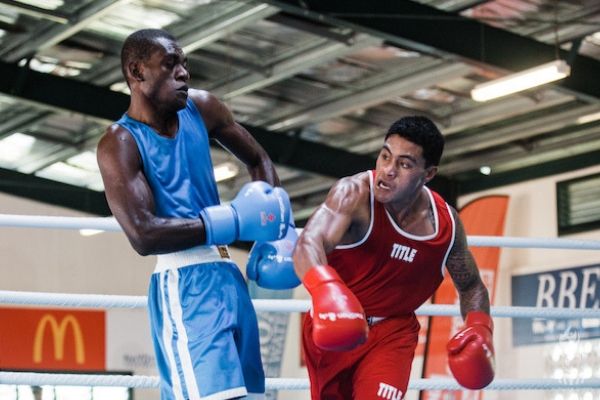 The first day of the Boxing on Savai'i lived up to expectations (Trina Edwards/Pacific Games News)
People from all ages were present, including elderly men and women on crutches and in wheelchairs who didn't want to miss out on the entertaining event.
It was a colourful crowd with some athletes and supporters from different nations, like Papua New Guinea, dressed in traditional costume.
Amran Christon from Nauru took the first win of the morning session against Denis Illaha from the Solomon Islands battling in the Bantamweight 56kg division.
Salelologa chief, Pipi Sa was impressed with the turnout of the event.
"Boxing on the big island of Savaii has been impressive," he said. "We're thankful to our boxers for playing with pride and elegance as they took the ring representing Samoa. Everything we are able to do today was because of God and his guidance."
Pipi expressed his heartfelt gratitude to the Samoan boxers who are competing.
"Samoa has a strong team," he continued. "We were able to cheer and really enjoy their performance. Well done for being brave. It brings great joy that they get to be confident knowing that Samoa has their back."
Boxing continues today at Don Bosco and entry is SAT$5 at the venue.