It's a woman's world at the boxing on Savai'i
Don't be afraid to put the gloves on and go into the ring. That's the message from New Caledonia's Mahina Charlot after beating Meheani Apeang-Bennett from Tahiti in the first round of the women's flyweight 48-51kg division at the Samoa 2019 XVI Pacific Games Boxing tournament at Don Bosco College in Savai'i on Wednesday.
The 19-year old believes that age and gender should make no difference, and there should be more female boxers taking to the ring.
"There is no reason to be afraid of that," she said. "This sport needs more girls and it also contributes to learning self-defence."
Being true to herself is a big factor in winning her bouts. "I was very relaxed. I just boxed as usual."
Read more: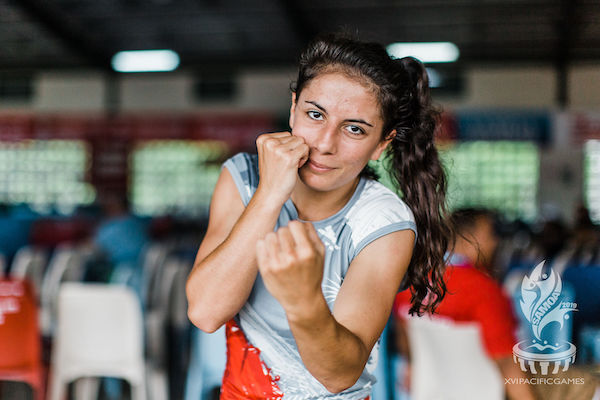 New Caledonia's Mahina Charlot wants more women to get into boxing (Credit: Pacific Games News Service/Trina Edwards)
This is her first Pacific Games and it has been an amazing experience to represent her country in the sport she loves.
"I started very young and I've always been very passionate about this sport," she continued. "Boxing contributes to the way you live your life…if you want anything you fight hard enough for it and you'll eventually get it."
Marlot started Muay Thai kickboxing at the age of 10 and has managed the transition into boxing. It was a big change, but she is happy to have taken a different path.
"I'm very happy to be here representing New Caledonia and also to be [on Savai'i] for the Pacific Games. I will do anything to bring the gold medal back home."
She acknowledged her father. She feels his support and belief in her is the reason she has come this far.
"He's always supported me from the youngest age…even though other coaches gave up on me, he's always been behind me."