Firisua strolls to gold in women's 10,000m
Solomon Islands long distance specialist Sharon Firisua won gold in the women's 10,000m at the Samoa 2019 XVI Pacific Games on Wednesday, finishing nearly a minute ahead of her nearest competitor to retain her title.
Firisua looked comfortable throughout, completing the grueling distance in 41 minutes, 19.92 seconds at Apia Park Stadium. She was followed by Vanuatu's Margaret Kuras, who claimed silver in 42:14.65, and bronze medalist Dianah Matekali, also from the Solomon Islands, in 42:27.90.
Firisua, who is 25, was all smiles as she crossed the line with no one else in sight.
Read more: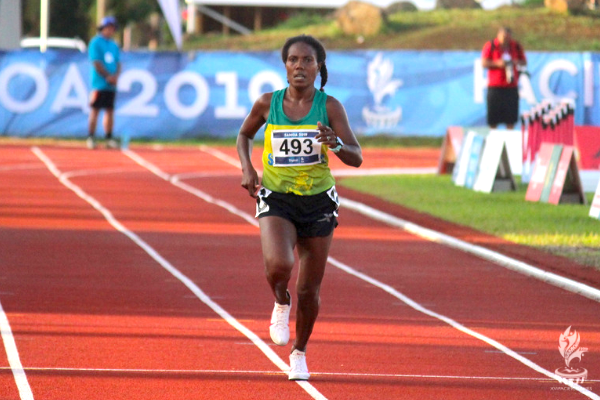 "I would like to dedicate this gold medal to my family and uncle who has passed away that I would very much love to see here today, because he is the who inspired me to participate in this sport. If he was here he would have been very proud of my performance," Firisua told the Pacific Games News Service.
She added that she would like to see other women in the Pacific take the next steps in long distance running. "For all the young athletes who watched me today, I would like to thank them and say that if they want to take my place or be one of the best runners, they need to train harder because I don't know who is going to replace me in the future if I finish running," said the emotional gold medalist.
Kuras said that she dedicated her silver medal to her father, who is supporting her miles away back in her home country.
Bronze medalist Matekali, who finished just ahead of Firisua in the women's 5,000m two days earlier to claim bronze in that event too, said: I'm happy I won a medal for my family and for my country. My next event is the marathon on Saturday so I will now be getting ready for that."
Athletics continues on Thursday at Apia Park Stadium with 14 medal events. The action begins at 1.45pm and entry is $5 or free for children under 15.