Carrot cake the secret to gold for Cook Islands runner
Cook Islands' Alex Beddoes made long distance running look easy in only his second time participating in the men's 1500 metre event, as he won gold just one day after claiming men's 800-metre gold at the Samoa 2019 XVI Pacific Games.
In an incredibly tight contest at Apia Park Stadium on Wednesday, Beddoes finished in in 4 minutes, 3.13 seconds. Messach Fred from Papua New Guinea snatched silver in 4:06.90 in his first Pacific Games appearance. Fiji's Peni Petero Veitaqomaki chased down bronze in 4:07.10, only three milliseconds ahead of Guam's Derek Mandell.
It was a perfect moment for 24-year-old Beddoes, whose parents were watching on in the crowd. They witnessed their son win without breaking a sweat, as he made long distance running look effortless. But, he revealed that behind an apparently effortless performance is a surprising pre-run routine.
Read more: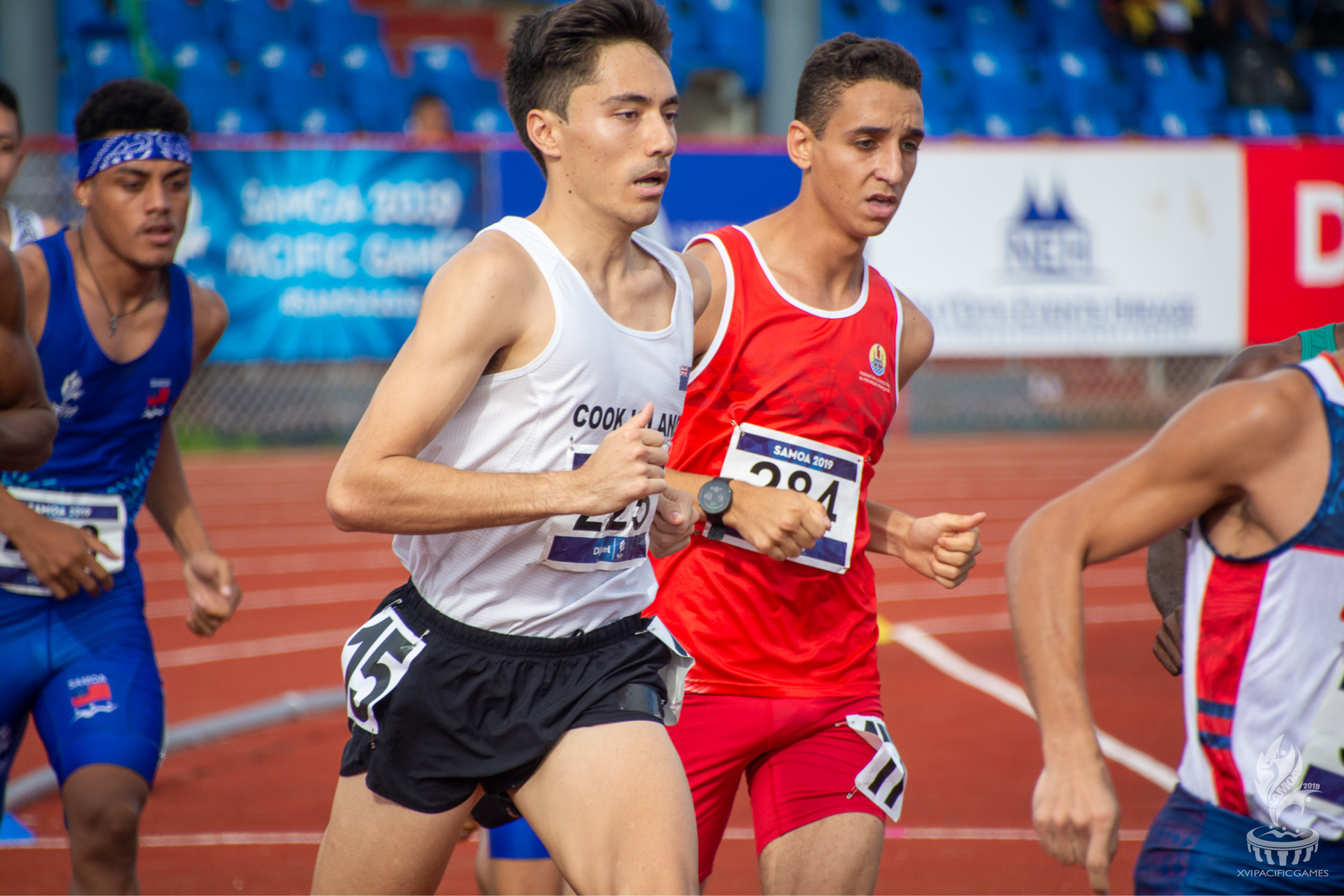 Alex Beddoes has won two gold medals in 24 hours on the track at Samoa 2019 (Credit: Pacific Games News Service)
"I usually rest a lot, make sure I'm hydrated, and have a cheeky dessert like a carrot cake or something the night before a race, which helps calm me down," he told the Pacific Games News Service.
"I've also been training in Melbourne, Australia with a really good squad and they train really hard which helps make the race feel a lot easier than it should."
"Winning gold feels great and I am really happy to have the win and have my whole team here to see it."
It was a memorable moment for Team Cook Islands, who have not traditionally enjoyed great success in track events but have now secured two golds in the space of 24 hours courtesy of Beddoes.
"Winning the 800m yesterday, which is the event that I came here to win, and it was also the first time my parents have seen me run at a Pacific Games…that was pretty special," he beamed.
Silver medalist Fred was relieved to collect a medal in this event after not reaching the podium in the men's 800m.
"I ran the 800m and came fourth and I was disappointed. I told myself that I must win a medal in the 1500m since it is my first year and I have a strong mind, so I fought right up to the finishing line.
"Winning silver was really awesome. This was my first time to represent my country and it's my first silver medal. I have been praying to God and, thanks to God's strength, I did it. I dedicate this medal to the people in my province as I am the only one to represent my province out of all of PNG," he said.
Veitaqomaki was delighted to secure bronze in a photo finish. "I feel happy to have come third, it was a good race and I feel great," he said.
Asked if he had a message for the people of Fiji, he said: "Thank you for cheering for me and praying for me," before heading off to rest and prepare for the 4x400-metre relay on Thursday.
Athletics resumes from 1.45pm at Apia Park Stadium on Thursday with 14 medals up for grabs. Entry is $5 or free for children under 15.