PNG sprint queen defends gold in women's 400m
The Pacific's sprint queen, Toea Wisil dominated the women's 400m at the Samoa 2019 XVI Pacific Games to secure a comfortable gold medal in front of a large crowd at Apia Park Stadium on Wednesday.
Wisil defended her tile from the Port Moresby 2015 XV Pacific Games, finishing in in 53.90 seconds. Her countrywoman, Leonie Beu, claimed silver in 55.71 seconds and Tahiti's Takina Bernardino secured bronze, finishing in 56.70 seconds.
"I'm really happy with my 400-metre run this afternoon and it is a good feeling, but I am mostly impressed to see the younger women coming up in track," Wisil, who first competed in the Pacific Games at Samoa 2007, told the Pacific Games News Service.
Read more: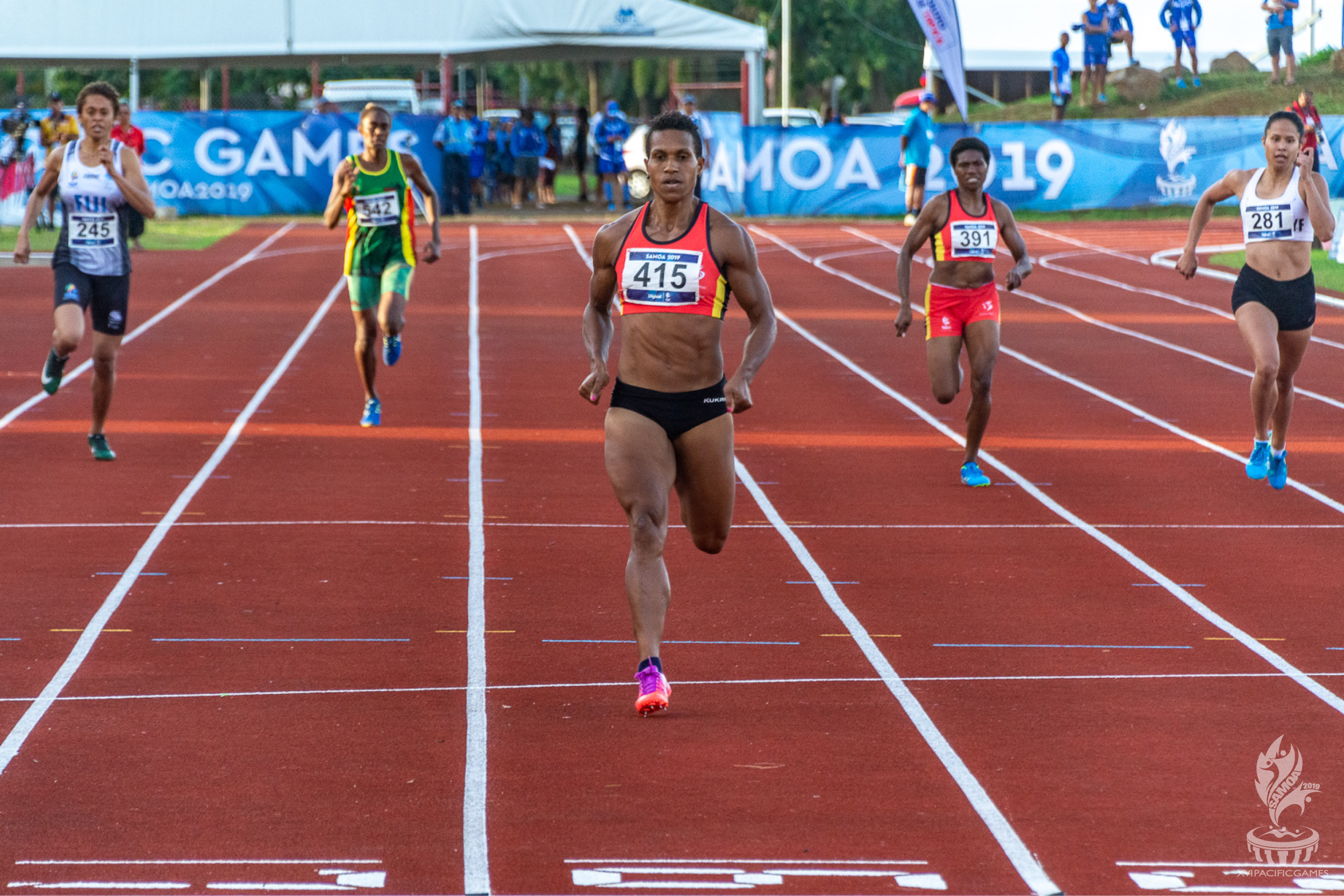 PNG's Toea Wisil won another Pacific Games gold in the women's 400m at Samoa 2019 (Credit: Pacific Games News Service)
"For me, it is not an easy job, it is hard work with sacrifices and commitment but, at the end of the day, you will see the result."
Wisil who is a role model for younger Pacific island women entering athletics, said she hopes her impact as an athlete, especially a female one, goes beyond Papua New Guinea.
"I hope that I am making an impact in the Pacific not just in PNG and in saying that, I always tell young women that when you put your mind and heart into something you want to achieve then you can achieve it. Just work hard and be committed," she said.
Wisil said she is proud of the young and upcoming female athletes of PNG and specifically praised current teammate and silver medalist Beu, who ran a person best in this race.
An emotional Beu said she was proud of her performance, but wished her coach had been present to witness it. "It was a great race and I am very proud of myself since this is my first Pacific Games but I am sad that my coach is away and not here to see me win the silver medal and run my personal best," she said.
On the other side of the podium, Bernardino received her bronze with a smile. "I was very excited to run the final and I was in a hurry to finish. Now I am extremely happy to get the bronze. I went for it and I did it!" she said.
Thursday's athletics action will feature the women's 200 metre sprint, women's 100 metre hurdles, and women's 4x400m relay on a packed day of 14 medal events. The gates open at Apia Park Stadium for the first event at 1.45pm. Entry is $5 and free for children under 15.