Women's discus upset at Pacific Games
Fourth-seeded New Caledonia has taken gold in the women's discus competition at the Samoa 2019 XVI Pacific Games, demoting the defending 2015 champion to silver.
Lesly Filituulaga won with her throw of 45.41 metres at Apia Park Stadium, with silver going to Tereapii Tapoki of the Cook Islands for her throw of 44.63m. Tapoki was the 2015 Pacific Games champion and current Pacific Games record holder.
Ata Maama Tuutafaiva of Tonga took bronze, throwing 40.39m.
"I am very happy and surprised because I wasn't expecting this result. The woman who got silver, Tereapii Tapoki, is very strong, so it was very hard, but I succeeded [in winning gold]," a thrilled Filituulaga told the Pacific Games News Service.
She said she hoped to be on the podium, but did not expect gold. "My goal was to at least medal, but this is really great - I got gold," Filituulaga said.
Read more: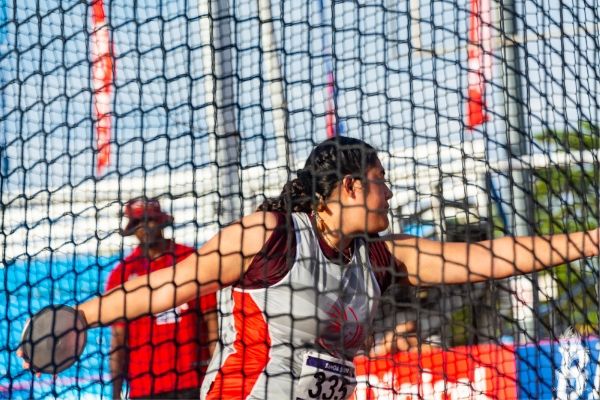 Lesly Filituulaga did not expect gold. (Image: Pacific Games News Service)
Despite winning silver, Tapoki remained optimistic.
"I'm proud to represent my country and I'm happy that I've got a medal." Tapoki said.
When asked about what her next steps for the future will be, Tapoki responded: "Maybe the Olympics in Tokyo, but I know that I need to work harder than what I've done now. I was hoping to break my own record for the Pacific Games."
Tuutafaiva will be taking home her second medal from the games, having also won gold in the women's shot put competition on Monday.
After competition concluded, Tapoki shared chocolates with her fellow competitors and the games officials working at women's discus.
A positive and encouraging atmosphere was seen throughout today's competition, with the women supporting and cheering on their fellow competitors. Cries of "see you next year!" followed the athletes as they left the competition area.