PNG dominate long distance track events
Papua New Guinea claimed five of the six medals available in the long distance track events on the opening night of athletics at the Samoa 2019 XVI Pacific Games at Apia Park Stadium on Monday evening.
In the men's 3000m, PNG took all three places on the podium in a rainy contest. Simbai Kaspar comfortably won gold in 9 minutes, 37.14 seconds. The battle for silver and bronze was tight between countrymen Andipas Georasi and Sapolai Yao, with just over two seconds separating them, but it was Georasi who came in second in 10:14.17 and Yao claimed bronze in 10:16.44.
"I'm so proud to get the gold," a delighted Kaspar told the Pacific Games News Service. "It's not a mistake that I got the gold – that was my plan that I was ready to achieve."
Read more: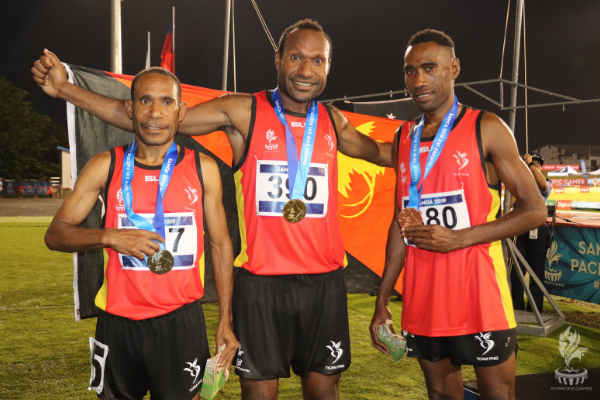 PNG claimed all three medals in the men's 3000m steeplechase, along with gold and silver in the women's 5000m (Credit: Pacific Games News Service)
When asked if he had a message for Papua New Guinea, Georasi said: "Thank you to the people of PNG for their support and encouragement to focus on what I'm doing in sport."
Bronze medalist Yao, who won gold last time at the Port Moresby 2015 Pacific Games and is now 36, said: "It's a privilege for us to get three medals for our country and it will contribute to our medal tally".
PNG also claimed gold and silver in the women's 5000m. Poro Gahekave (PNG) finished first in 18:27.44, well ahead of her countrywoman Mary Tenge (PNG) in 19:14.50.
The women began clustered together at a slow but steady pace. But, lap after lap, the distance grew between the runners as Gahekave and Tenge pulled away. The battle for bronze was tight between two Solomon Islanders, Dianah Matekali and Sharon Firisua, who gold in this event at Port Moresby 2015. But it was Matekali who snatched the third podium spot, finishing in 19:31.38.
All contestants were visibly exhausted at the end but triumphant to have completed such a feat.
Asked what gave her the winning edge, 25-year-old Gahekave said: "I've been training really hard for the Games. You just try to run your own race and just enjoy the race".
An emotional Gahekave added that she was dedicating her gold medal to her late grandfather, who passed away in February and was one of her greatest supporters. "He was my biggest inspiration through my training, and he was always there to encourage me. I wish he had been here today to watch me run. He's the person that I looked up to, and he always told me to humble."
Silver medalist Tenge said: "I tried my very best to run as fast as I could. I could feel that my legs were tired but I was thinking of my country, and I was thinking, I won't let my country down."
Solomon Islander Matekali, the only non-Papua New Guinea athlete to reach the podium in Monday's long distance events said: "I'm very happy to win a medal for my country".
Athletics continues on Tuesday 16 July at Apia Park Stadium from 9.30am. Entry is $5 and free for children under 15.