Fiji snatch gold in women's high jump
Fiji's Shawntell Lockington took gold in the women's high jump at the Samoa 2019 XIV Pacific Games on Tuesday, beating defending champion Rellie Kaputin from Papua New Guinea. Candice Richer of Tahiti took home the bronze.
On a sunny afternoon at Apia Park Stadium, only four women participated in the event but there was no lack of competition as the athletes battled not only each other but their scores from the Port Moresby 2015 XV Pacific Games, and they did not disappoint.
Lockington took gold with a jump of 1.72 metres, a huge increase on her Port Moresby 2015 jump of 1.58m.
Read more: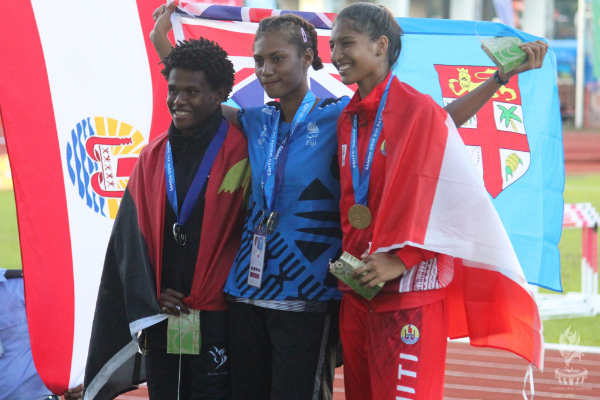 Fiji's Shawntell Lockington won gold in the women's high jump (Credit: Pacific Games News Service)
Despite winning gold, Lockington was unsatisfied with her final jump and told the Pacific Games News Service: "I can't really explain how I'm feeling because I knew I could do better. However, I just want to thank everybody for their support."
Kaputin was not bitter about coming second, but was hopeful when looking forward to her other events at Samoa 2019.
"This is just my first event here, I still have the triple jump on Thursday and long jump on Friday," Kaputin said. "I think doing this gives me more confidence to go out there and do my best on Thursday and Friday, defending my two titles." The 26-year-old was unable to match her Port Moresby 2015 gold-medal winning jump of 1.77m, reaching only 1.65m.
Richer claimed bronze with a jump of 1.59m, bettering her jump of 1.45m at the last Games.
She revealed: "I stopped athletics for a year and I only started training again a month ago with regular jumps." She was reflective, yet grateful for this medal, saying: "I should have been more prepared, but this was still quite good for this kind of event".
Athletics continues on Wednesday from 2.30pm at Apia Park Stadium. Entry is $5 and free for children under 15.