Gold for New Caledonia in men's para javelin
New Caledonia continued their dominance of para athletics at the Samoa 2019 XVI Pacific Games, claiming gold in the men's javelin ambulant on Tuesday courtesy of Their Washetine. Vanuatu's Ken Kahu claimed silver and Fiji's Iosefo Rakesa secured bronze.
In a tight contest, Washetine threw 44.46 metres and ended up with a weighted percentage score of 78.21 per cent. Kahu threw 46.61m and had a score of 77.67 per cent, while Rakesa threw 31.90m with a score of 73.04 per cent.
The ambulant event, which means the athletes are standing, features competitors with a range of disability classifications. The final results are calculated based on their throw distance and a score weighting that correspondents to the athlete's para classification and how close their throw distance is to the record score in that classification, meaning the furthest distance is not necessarily the winning throw.
Read more: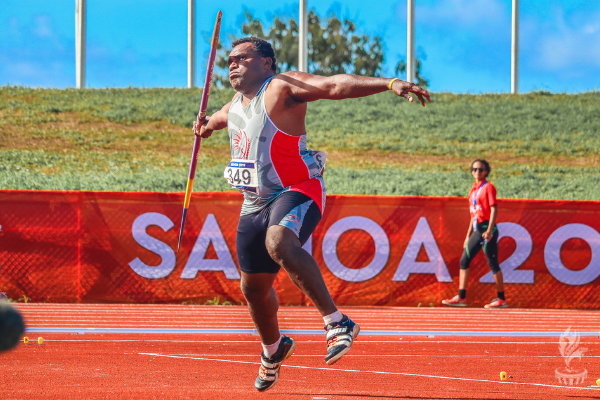 New Caledonia's Their Washetine won gold for New Caledonia in a tight men's para javelin ambulant contest (Credit: Pacific Games News Service)
"I want to dedicate this gold medal to my country, my friends and all the people who came to support me," Washetine said. "I am so happy to achieve this medal so that I can attend the world championship, which will be held in September this year. I won silver four years ago at the last Pacific Games and now I am glad to win gold this time."
Kahu said: "I want to dedicate this medal to my coach, because he was the one who found me in the first place and brought me into this sport."
The men's para javelin ambulant competition starred athletes from New Caledonia, Fiji, Wallis and Futuna, Papua New Guinea, Vanuatu, Tahiti and Solomon Islands.