Hammer throw winner mirrors father's 1983 victory
Erwan Cassier of New Caledonia scooped gold in the men's hammer throw at the Samoa 2019 XVI Pacific Games on Wednesday, following in the footsteps of his late father who won the same event in Apia at the Samoa 1983 Pacific Games.
Cassier secured gold with a toss of 57.19 metres. Silver was awarded to his teammate, Petelo Toto, with a throw of 54.85m. Bronze went to Papua New Guinea's Debono Paraka, who threw 36.57m. On the podium, Cassier held a framed photograph of his late father, who won gold in the same event on the same turf at Apia Park Stadium 36 years ago. This is the second time he has repeated his father's feat, having done so at the Samoa 2007 Pacific Games as well.
"My dad won this here at the Pacific Games in 1983," Cassier revealed to the Pacific Games News Service. "I wanted to have him here with me today but he passed away four years ago, so I dedicate this victory to him."
Read more: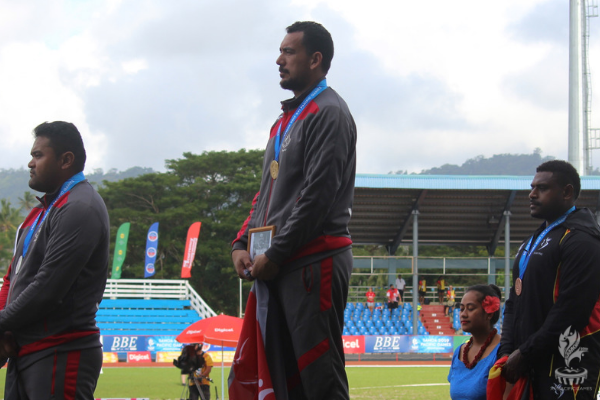 Men's hammer throw gold medalist Erwan Cassier stood on the podium holding a photo of his late father, who won gold in the same event at the Samoa 1983 Pacific Games (Credit: Pacific Games News Service)
Cassier is a repeat gold medalist at the Pacific Games, having won the men's hammer throw at both Samoa 2007 and Port Moresby 2015. "It's always a pleasure to win," he said.
Toto, the silver medallist from New Caledonia, also dedicated his performance to his family back home. "To my little girl, she is now three months and I love her, she is my life," he said.
Bronze medalist Paraka was happy to collect a medal but admitted he has his eyes set on tomorrow's discus competition. "Discus is tomorrow, that is my main event and I want to get a good throw from that. That is what I am focused towards, and that is what all of my efforts are leading to tomorrow," he said.
While Samoa's three competitors in the men's hammer didn't make the podium, they made up half of the athletes competing. Mangere Faitala Sua, who is 21, 16-year-old Vagana Paitomaleifi and 14-year-old Paiesi Fosi Lemana were proud to fly the flag of Samoa in today's competition.
"It's our first time to represent Samoa at the Pacific Games," Faitala Sua told the Pacific Games News Service. "The best thing is that we get to experience the competition, because it's different from school competition. We want to have fun, medals or no medals, and we'll have more chances in the future."
"I'm happy because this is my first time in this competition, and it's a top competition," Paitomaleifi added.
Looking ahead, Faitala Sua, Paitomaleifi, and Lemana will be focusing on improving their strength and technique. "The big challenge for us is to train hard and to keep ourselves improving in hammer throw," Faitala Sua said.
Six athletes competed in the men's hammer throw representing three different countries: Papua New Guinea, Samoa, and New Caledonia.
Athletics continues from 1.45pm on Thursday at Apia Park Stadium. Entry is $5 or free for children under 15.