Wallis and Futuna step out to defend volleyball gold
Wallis and Futuna burst onto the volleyball court for the first time at the Samoa 2019 XVI Pacific Games on Friday to defend their gold medal from four years ago.
The volleyball team were the only gold medalists from the tiny French Pacific territory at the Port Moresby 2015 XV Pacific Games, and all eyes will be on them again at the National University of Samoa Gym in this year's event.
On Friday they began their title defence, easing past Tuvalu 25-12, 25-15, 25-23. But, despite the result, Wallis and Futuna captain Tuifua Glenn declared there was room for improvement.
Read more: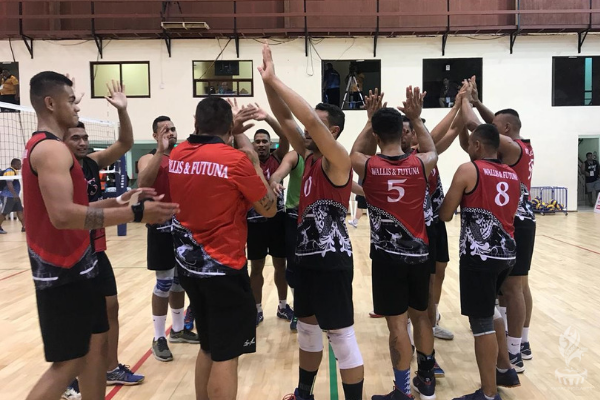 Wallis and Futuna got their volleyball gold medal defence off to a winning start, defeating Tuvalu in straight sets (Credit: Pacific Games News Service)
"It was a good game but I'm not very happy with it, and we'll be making time to train," he said.
Glenn said the team's success on the international stage is thanks to the fact that many of them play professionally in France, and that training hard, and daily, is their secret weapon.
But they face tough competition. In Friday's other men's pool matches Tahiti defeated New Caledonia in a five-set thriller (23-25, 16-25, 25-20, 25-19, 15-10), Kiribati beat Solomon Islands in five sets (23-25, 25-20, 19-25, 25-21, 15-10) and Samoa won against American Samoa (25-12, 25-19, 24-26, 28-26).
When asked if they were confident of defending their title, Glenn refused to be drawn. "I don't know about the rest of the competition here, because New Caledonia, Tahiti and PNG are all good teams, and everyone is in contention" he admitted.
And although winning gold again would mean a lot to Wallis and Futuna, putting their home on the map is just as important.
"I'll just be happy and enjoy the Games," he smiled. "Because our island is a little island, and we are all very happy to show the world where Wallis and Futuna is."