PNG honour late volleyball captain with emotional opening win
Papua New Guinea's men's volleyball team have extra motivation at the Samoa 2019 XVI Pacific Games, following the unexpected passing of their captain Ravuiwa Mahuru Rau just days before the event.
In Thursday's opening clash at the National University of Samoa Gym, they began their tournament on a winning note, defeating Kiribati in four sets (25-10, 23-25, 25-10, 25-15). Despite a second set blip, PNG looked strong, roared on by full stands of lively PNG fans and a wonderous atmosphere.
"We dedicate this game to our late captain, Mahuru," PNG captain and veteran Gia Kapa told the Pacific Games News Service. "We had good communication that led to our win."
Read more: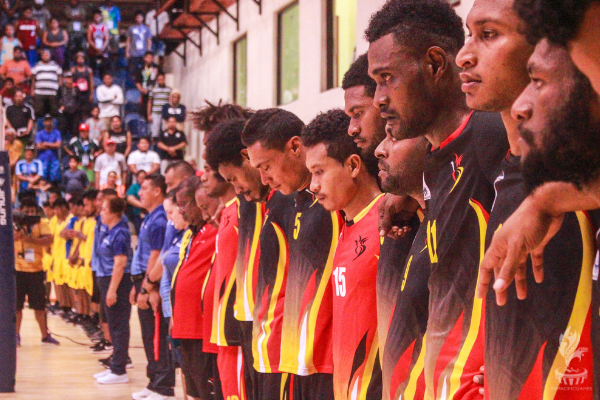 PNG's men's volleyball team powered to an opening win over Kiribati to honour their late captain (Credit: Pacific Games News Service)
The late Ravuiwa passed away days before the team was due to depart for Samoa 2019 after a short illness. He had been nominated by Volleyball PNG to be his country's flag bearer, and would have become the first PNG volleyball player to compete at five consecutive Pacific Games, having played at Suva 2003, Samoa 2007, Noumea 2011 and Port Moresby 2015.
Earlier in the day, New Caledonia defeated Federated States of Micronesia in straight sets (25-17,25-16, 25-13).
New Caledonia, who won silver last time out at the Port Moresby 2015 XV Pacific Games are hoping to go one better at Samoa 2019.
"We are going for gold," affirmed New Caledonia coach Michael Nehoune. "For the next match, I will work with the team to improve our blocking."
Micronesia captain Thorn Aritos is excited to be competing with his two brothers for the first time at Samoa 2019. "We have been playing ever since high school, me and my brothers. This has been a great experience and we are going to try harder in the next match," he said.
The last clash of the day saw Samoa face Guam. With the venue filled to the brim with family, friends, and fans, Team Samoa quickly snatched all three sets to win 25-12, 25-20, 25-17.
Guam captain Leandro Peoligio admitted that the unknown strength of opponents at each Pacific Games presents a challenge.
"For every competition, we prepare a year in advance. We didn't know the strength of our competitors for today since we haven't seen them since 2015." For the next match, Peoligio said the team is going to work on "blocking, being faster, and communication" to improve their results.
The men's action continues from 12pm on Friday 12 July at the National University of Samoa Gym with New Caledonia vs Tahiti, Kiribati vs Solomon Islands, Wallis and Futuna vs Tuvalu, and Samoa vs American Samoa.
Women's matches begin on Saturday 13 July. Entry is $5.