Sport Preview: Volleyball
Volleyball will be serving up the action from Thursday 11 July at the Samoa 2019 XVI Pacific Games, with 13 nations competing at the National University of Samoa (NUS) Gym.

American Samoa, Federated States of Micronesia, Fiji, Guam, Kiribati, New Caledonia, Papua New Guinea, Samoa, Solomon Islands, Tahiti, Tonga, Tuvalu and Wallis and Futuna will contest medals in the 9-day competition.

The first match in the Volleyball tournament will showcase the talents of New Caledonia and Federated States of Micronesia.
Read more: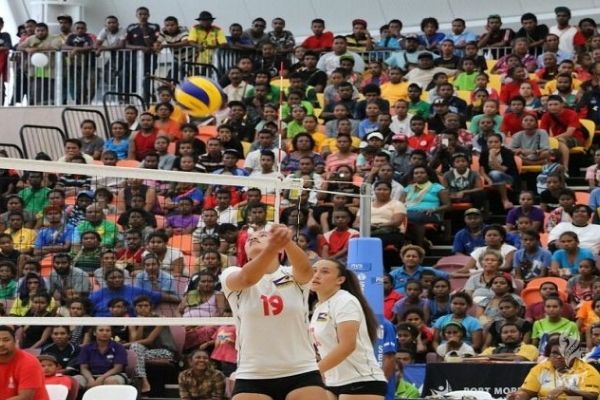 Volleyball was a very popular sport at the Pacific Games in 2015 in Papua New Guinea (Credit: EMTV)
The American Samoan women's volleyball team were gold medalists at the 2015 Pacific Games in Papua New Guinea. They were a young team, then, with 90% of the squad 22 years of age or under.
Three of that original team are coming to Samoa for another chance at gold.
Rachelle Saaava now aged 25, Saitaua Iosia, now 24, and Litara Keil, 26, will be keen to repeat their result from 2015.
The Wallis and Futuna men's volleyball team are also bringing some experienced players from their gold medal finish at XV 2015 Pacific Games in Papua New Guinea.
Boris Takianiko, Esekiele Sekeme, Petolo Kolokilagi,pou and Tali Tiniloa will be a steadying influence due to their previous Pacific Games experience.
Samoa has had their eye on a podium finish for some time.
The men's team claimed the bronze medal at Oceania National Indoor Volleyball Championship in New Caledonia in August, 2018.
They won against host nation New Caledonia, but lost 3-0 to New Zealand in the semi-finals.
They used this event to prepare for the Samoa 2019 Pacific Games and will come into this competition with the benefit of more experience under pressure and a home crowd who will be behind them all the way.
Entry is SAT$5.00 at the venue.
Final standings in 2015
Women
American Samoa - Gold
Tahiti - Silver
New Caledonia - Bronze
Men
Wallis and Futuna - Gold
New Caledonia - Silver
Tahiti - Bronze