Vanuatu's Pata bows out on a high with beach volleyball gold
A year after winning women's beach volleyball bronze at the Gold Coast 2018 Commonwealth Games, an emotional Miller Pata on Friday claimed gold for Vanuatu at Samoa 2019, before revealing it would be her last Pacific Games.
Pata, paired with youngster Sherysyn Toko, defeated Tahiti's Vaihere Fareura and Emere Maau-Boutry in straight sets (21-12, 21-18) in the gold medal match. After dominating the first set, Vanuatu endured a far tighter contest in the second before clinching it in scenes of joy, roared on by packed crowds at Apia Waterfront.
"I wish my kids were here so that they could see me win this gold medal," said an emotional Pata, who famously carried her seven-month-old son, Tommy, onto the podium at Gold Coast 2018.
Read more: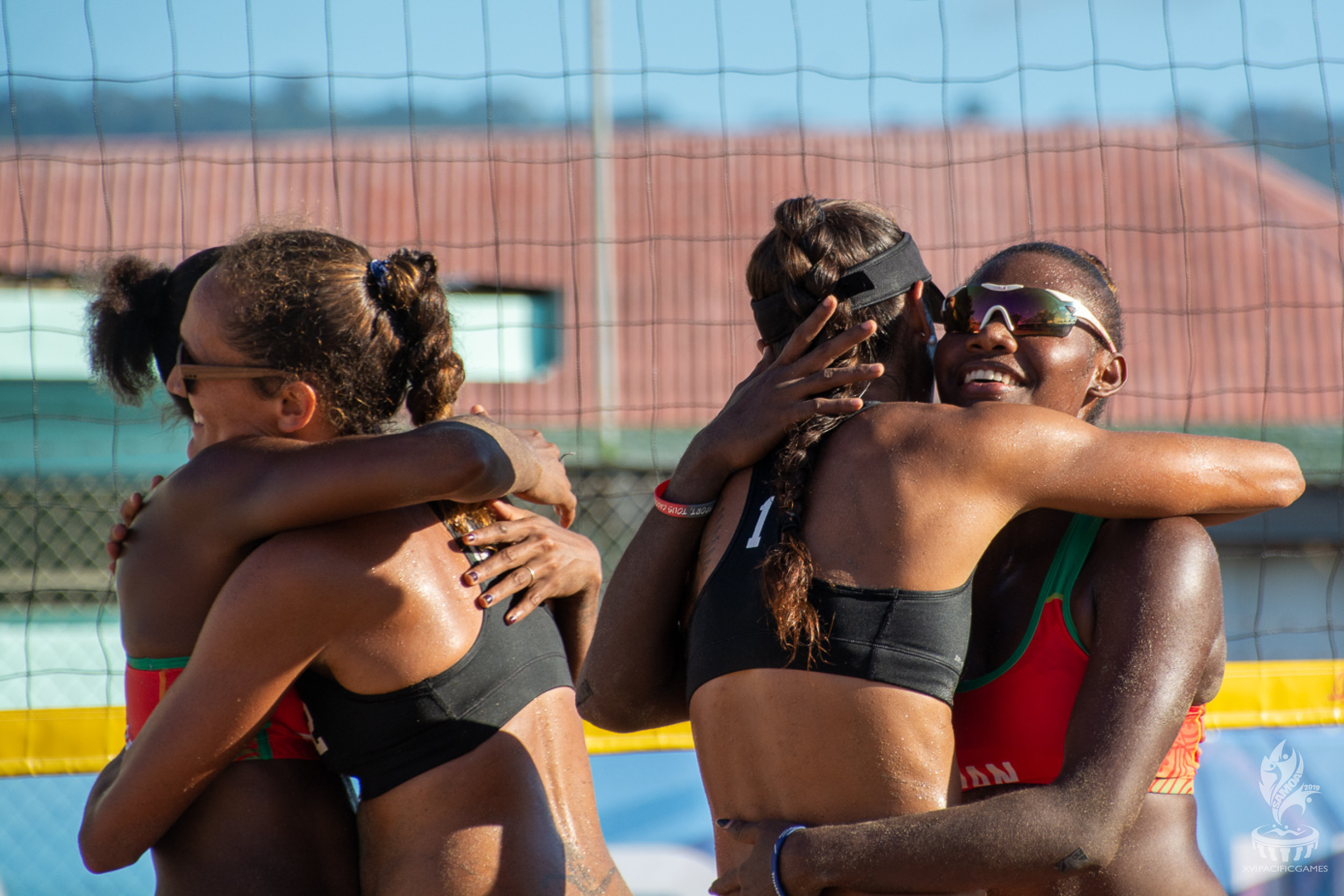 Vanuatu and Tahiti embrace at the end of an emotional gold medal match (Credit: Pacific Games News Service/Karen Anaya)
"I am so happy to win this medal, and also to say that this will be my last time competing at the Pacific Games."
Tahiti fought with all their might but it wasn't enough to overcome a determined Pata and Toko.
"This is the second time that we have played against Vanuatu, and we lost, but we did our best," Fareura said. "It was good to have supporters from the indoor volleyball who came down today and cheered for us, and to know that our friends and families were watching live from Tahiti."
In the women's bronze medal match, defending champions American Samoa defeated Solomon Islands 21-8, 21-14. American Samoa were left to contend bronze after being comfortably beaten by Vanuatu in Friday morning's semi-finals.
Australia's Marcus Ferguson and Tim Dickson won gold in the men's event, defeating Tahitian pair Terau Ena and Jeremie Paraue 21-9, 19-21, 15-9 in a dramatic final.
Australia won the first set comprehensively but Dickson suffered a quad muscle injury towards the end of it and, with his movement restricted in the second, Tahiti took advantage.
Dickson called a medical time out at the start of the third which allowed Australia to fight back and seal the clash, and gold.
Despite high hopes going into the medal matches, Tahiti were ultimately forced to settle for silver in both the men's and women's competitions.
In the men's bronze medal match, Tonga's Semisi Funaki and Tio Fonohema defeated American Samoan pair Sigalu Aitui and Tauvela Fagaima 24-22, 19-21, 19-17.
"I wish my parents, wife and kids were here to watch me today, because they are my best supporters and I just want to thank them for all their prayers," said an overjoyed Funaki.
The medal matches brought to a close five days of popular and well attended beach volleyball action at Apia Waterfront, creating new bonds between athletes, officials and volunteers working as one in Pacific spirit.