American Samoa football team end 36-year Games losing streak
American Samoa goalkeeper Nicky Salapu was two years old the last time his country won a football match at the Pacific Games in 1983. The 38-year-old is the only member of his team at the Samoa 2019 XVI Pacific Games who was even born then, by quite a long way.
And not only was Salapu too young to remember that last glory, the world remembers him for entirely different reasons.
Salapu was in goal for American Samoa on the now infamous night in 2001 when they lost 31-0 to Australia at the FIFA world cup qualifiers. The scoreline made football history and led to changes in FIFA qualification rules. But it was too little too late for the-then 20-year-old, captain of the young American Samoa squad, who was labelled as the world's worst goal keeper.
Salapu, who has made a comeback to captain his country again at Samoa 2019, continues to live with that history but now channels his emotions to motivate him to be a passionate football role model to his 11-year-old son, Dillan.
Read more: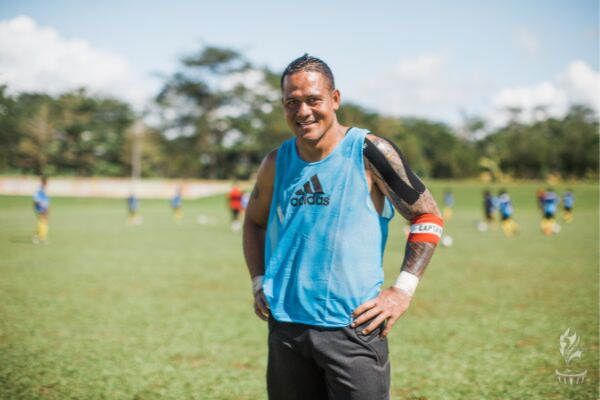 American Samoa captain and goal keeper, Nicky Salapu, helped his side hold Tuvalu to a 1-1 draw at Samoa 2019 to end a 36-year losing streak (Credit: Pacific Games News Service)
And it seems to be working as he and his teammates achieved the remarkable on Friday in Apia, ending a Pacific Games losing streak dating back to 1983 by drawing 1-1 with Tuvalu.
The result is just the latest chapter in American Samoa's efforts to transform themselves, as chronicled in the 2014 documentary film, Next Goal Wins.
Salapu, speaking to the Pacific Games News Service at the JS Blatter Football Fields Faleata after the historic result against Tuvalu, said: "The past is the past, the wound is still there and it will take a long time to get over with, maybe I'm going to take it with me, 6 feet under. But it keeps giving me the energy and the strength to continue playing.
"That was just a game. What happened then keeps me going, more hungry and stronger, and here I am."
Salapu leads another young squad of 16- and 17-year-old American Samoan nationals at these Games.
With two wins under their belt in FIFA world cup qualifying matches in 2018, members of the current team have at least tasted victory.
However, the last time American Samoa won at the Pacific Games was in 1983 against Wallis and Futuna. When asked if his team could go one better than the Tuvalu result to win a match at these Games, Sapalu said: "There is a time and place. You never know".
So far, American Samoa has lost to Fiji (9-0) and New Caledonia (5-0), as well as the draw with Tuvalu.
Their next match is against Solomon Islands on Monday 15 July. Entry is $5 for adults, and free for children 15 years and under.