The pioneering woman coaching men's rugby at Samoa 2019
Fiji's Elenoa Kunatuba is no stranger to the sport of rugby union, but she is breaking new ground as a woman coaching the Tuvalu men's rugby 7s team at the Samoa 2019 XVI Pacific Games.
The 38-year-old has been in charge of the Tuvalu team since 2018 and says her gender is no barrier, even in this traditionally male-dominated sport.
"Coaching is not about being a female or a male, it's the life of rugby," she told the Pacific Games News Service. "Times have changed and so have our coaching styles. It's about empowering the players to do things on the field because, at the end of the day, for me as a coach I am not the one that is playing, they are."
Read more: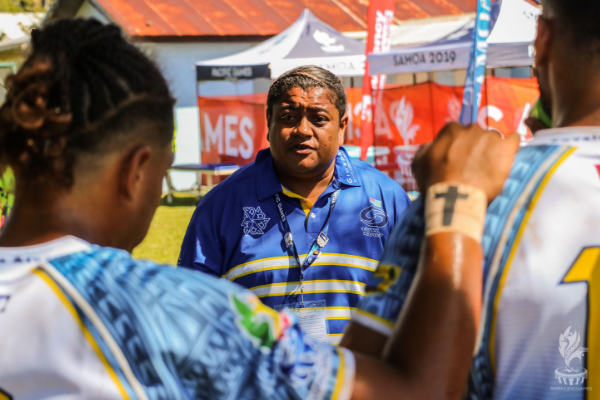 Kunatuba has been a pioneer in her sport for the best part of a decade.
In 2011 she was appointed as the first Oceania Regional Women's Rugby Development Officer, from where she went on to coach Fiji's women's team in 2013. She has also coached a women's team in New Zealand, and runs her own rugby club in Fiji.
For her, sport is a sharp sword that cuts through race, beliefs and gender.
She says rugby union in particular, as one of the best known sports in the Pacific, has impacted the lives of many, as it is something people can relate to and understand.
"Coaching has changed a lot for me from where I started. I get to gain knowledge as I grow older, and I have learnt from other coaches. You have got to love what you do and I know critics will come after you, but that is how you make yourself stronger."
Her drive has always been about giving back to the sport.
"It's not what you could do for rugby, but what rugby has done for you," she declared.
There have been challenges in her life, but she has overcome these through her passion for the sport.
"I got a little bit off track and then I concentrated on club games. I lost passion and I didn't feel like coaching anymore."
Then in 2015 she was asked to coach the women's team at the Marist club in Hamilton, New Zealand.
She continued: "You have to come out of your shell and say you can do it, come out daring and whether you get it right or wrong, you get to learn."
Kunatuba said her late mother, Tapenisa, who was her right-hand woman running the rugby club in Fiji, was one of the most influential people in her life. Regardless of her profile and experience nowadays, the pioneering coach is humbled to have learnt from a simple, hard working woman who helped her thrive in her career.
"My mother was my biggest adviser in whatever I've done in life," Kunatuba revealed. "I lost her this year in May and I would've loved to talk to her before I came here to these Games. She was the one who kept me on my feet and would tell me things no other coach can do. I really miss her.
"She'd finish work and go fishing and then off again she went to work. There were five of us, my sister, three brothers and I," she said. "Two of them have handicaps and are still alive. The eldest died."
Kunatuba believes that coming to Samoa to coach Team Tuvalu is the beginning of a new stage of her life's journey.
"I love coaching and teaching players, I am more into development. It has been a breath of fresh air, it tests your capabilities as a coach."
In Friday's pool matches, Tuvalu lost 42-0 to Tonga and 21-0 to American Samoa. They will play Solomon Islands and Samoa on Saturday 13 July at Marist Stadium. Entry is $10 for adults and $5 for children.