Savai'i school has adopted Tokelau for the Pacific Games
The "One in Spirit" slogan of the Samoa 2019 Pacific Games has stirred a phenomenal engagement of students from Taga Primary School on Savai'i as they welcome their adopted country, Tokelau.
Savai'i will host the Boxing at the Games and Lealofi Agaalii Gafo, principal of Taga Primary School on the island, is amazed by the eagerness of the students to be involved.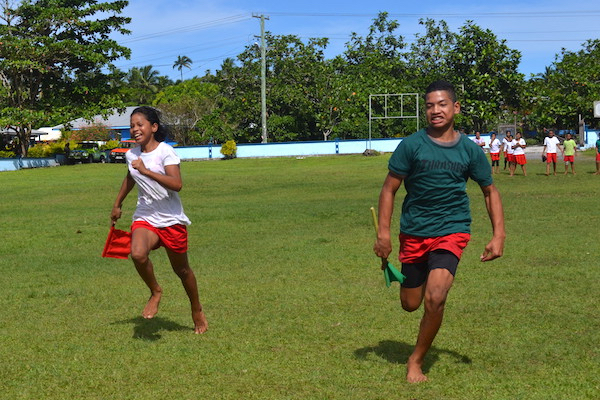 Taga Primary School
"There is great comfort to see the students engage with outdoor activities. They are keen to work outside and this is the heart of any Samoan family, the heart for family and service to others and the community," he says.
The in-school programs for the Games is organised by the Ministry of Education Sports and Culture (MESC).
Schools all over Samoa are involved in adopting a country, Greening of the Games, coming up with cheers for their chosen country's athletes and a poster design competition.
For Lealofi, the programme is very useful because not all students learn through pen and paper, preferring hands-on activities. Students have been creative in making the traditional costumes of Tokelau, flower arrangements, and recycling plastic posters for showcasing during the Torch Relay.
Read more
"Schools being involved in the Games is an education for the students. It will create a bridge between Savai'i and Upolu, so that we are not missing out on anything happening in Apia," he says. "There's a close connection we share with the community, even if we will not be present or get to meet any of our Pacific Island friends," says Lealofi.
The students will perform the national anthem and traditional songs of their adopted country for the village of Taga and they are thrilled about it.
Savai'i being involved has completed the missing pieces of the puzzle to make the 'Miracle Games' a journey for everyone.
Pacific Chief Executive Officer, Falefata Hele Ei Matatia, says, "What's good for Savai'i, is good for Samoa."
Taga Village is well known for the Alofaaga blowholes, one of the Pacific's best tourist attractions, and their warm hospitality.

The Pacific Games Boxing will be at Don Bosco College in Salelologa.
The tournament will run from 15 to 19 July in the second week of the Games.
(see the full programme for all sports).

Taga Village lies on the southeast coast of the big island, 37 kilometres from the boxing venue.
Everyone involved in the Boxing in July will travel to Savai'i thanks to Samoa Shipping Corporation