Savai'i students embrace Pacific countries
As part of the Samoa 2019 Pacific Games preparation, each school in Samoa is adopting one of the 24 participating countries and learning about the environment. This includes three schools on Savai'i.

The adopt-a-country campaign, run by the Ministry of Education, Sport and Culture, encourages pupils to learn about different Pacific cultures.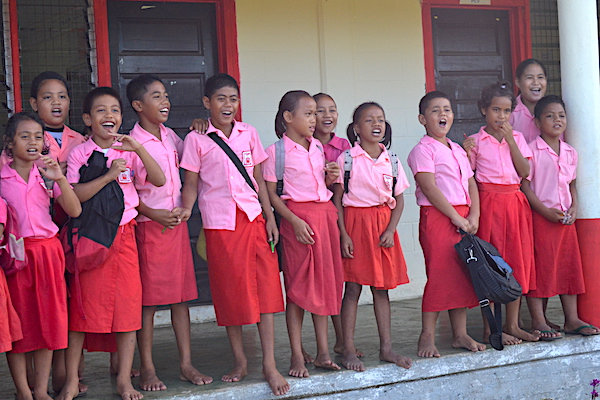 Palauli Primary School, Savai'i
"Any sport that the Cook Islands will be playing, our school will be cheering for them. We are one, we are family," says Telea Taaau, Principal of Palauli Primary School as he explains the focus for his pupils.
Cook Islands has indicated it will compete in the boxing being held at Don Bosco College from 15-19 July – the only event being staged on Savai'i.
2019 will be a significant milestone for the students on the island as they get to experience Pacific Games fever, first hand.

Boxing is a prominent sport in Samoa. Many of Team Samoa's boxers are from Savai'i and for the students to watch the action live, instead of on television, will be a bonus.
The Palauli students are studying the history of their adopted country, the Cook Islands.
"The culture of the Cook Islands is mostly showcased through music and dances. We have different cultures, but we do have similarities, somehow. Both our cultures have celebrations through dance, music, art, and all kinds of festivities that commemorate a symbolic event," Telea says.
Many believe the ocean separates the different nations. However, for Telea it is the waves that close the bridge between the different cultures.
"Our greatest treasure is the ocean. As a Pacific Islander, this is where life began for our ancestors. We may not remember the name of our every ancestor, but the ocean signifies our voyage.
"History says most Pacific Islanders were from South-East Asia and we journeyed through the seas looking for new homes. This means one thing - we were all together, but, seeking better opportunities, we had our own boats and sailed away."
Read more
Everyone involved in the Boxing in July will travel to Savai'i thanks to Samoa Shipping Corporation