Savai'i will light it up for the Boxing in July
Excitement is building on the beautiful island of Savai'i as the countdown to the XVI Pacific Games in July continues.
The island will host the the sport of Boxing in the second week of the Games from Tuesday 16 July to Friday 19 July.
"Everyone on Savai'i will be here," says Father Tevita Nukuluve Lefai with a smile.
He's the principal of Don Bosco College, the venue for the boxing. The school is in Salelologa, five minute's drive from the ferry terminal.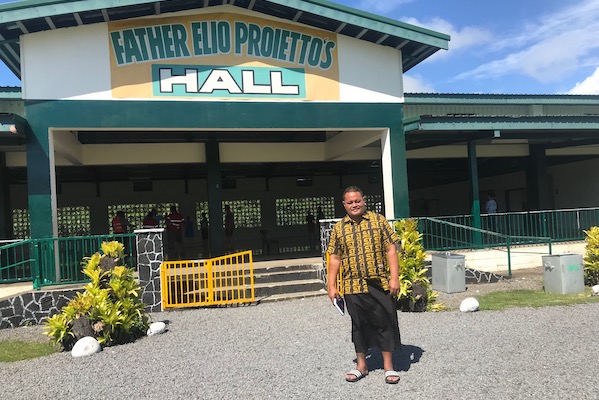 Father Tevita Nukuluve Lefai.
A delegation from the Pacific Games organising committee are in Savai'i, thanks to the Samoa Shipping Corporation, to discuss logistics with Father Tevita and his team, the Seventh Day Adventist Church (who will provide the dining hall just across the road from Don Bosco College), the local business community and the hotels that will accommodate all the visitors. Luisa's Lagoon Chalet, the Jet Over Hotel, Le Rosalote Guest Fales will accommodate the teams and The Savaiian Hotel will host technical officials.
Don Bosco will be a gathering point from the first week of the Games.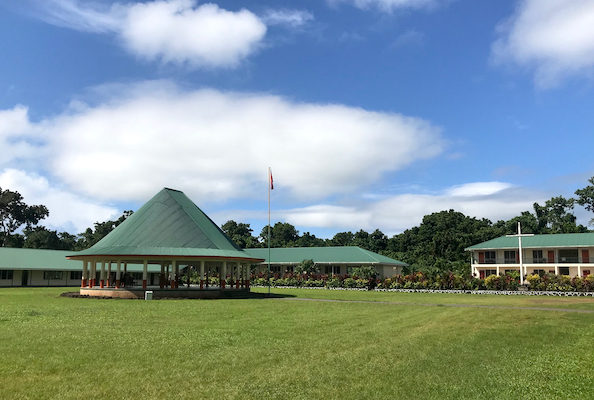 A marquee for training will be set up here in the College's grounds.
"Next to the boxing ring in Father Proiettos Hall, we'll be setting up a festival village for the people of Savai'i with a marquee, food stalls and big screens," Jack Smith from the Games operations team explains. "The screens will broadcast the opening and closing ceremonies, the first week of competition and other sports during the second week, along with the boxing bouts."
Father Tevita is very pleased Don Bosco was chosen as the venue.
"I'm really, really excited. I'm sure there'll be a big crowd and I'm sure the people will enjoy the opportunity to watch all the sports on the big screens," he says. "It will be an inspiration for some of our young people on Savai'i to give it a go…it'll be history."
Boxing was included in the first Pacific Games in 1963 and the popularity of the sport continues to grow. Fifteen nations and around 170 athletes will compete in July.
Boxers of Samoan blood like David Tua and Joseph Parker have all starred at the international level. And Ato Plodzicki Faoagali represented Samoa at the 2018 Commonwealth Games on the Gold Coast in Australia, winning a silver medal.
For Savai'i, hosting the boxing is an opportunity to showcase the natural beauty of the island and the warm and generous welcome from locals.
Pacific Games Office CEO, Falefata Hele Ei Matatia, is originally from the island and is confident the Boxing will be a successful event.
"Savai'i will light it up," he says.
The Sport:
There are 10 weight classes for the Men's competition, and three for the Women's competition.