Samoan PM gifted gold medal by fellow archer
Despite withdrawing from medal contention at the Samoa 2019 XVI Pacific Games, the Samoan prime minister has ended up with a gold medal round his neck.
The nation's leader and member of Team Samoa's archery team, Tuilaepa Sailele Malielegaoi, was gifted the medal by fellow team mate and two-time gold medallist Jill Walter.
Tuilaepa withdrew from the bronze medal event in mixed doubles compound category to allow his 17-year-old team mate, Mathew Tauiliili, to compete. Tauiliili and Naifoua Vise Timai proved his faith in them by winning the bronze.
Walter gifted one of her gold medals to acknowledge the PM's role as a "stalwart of sports and youth", the government press secretariat said.
Read more: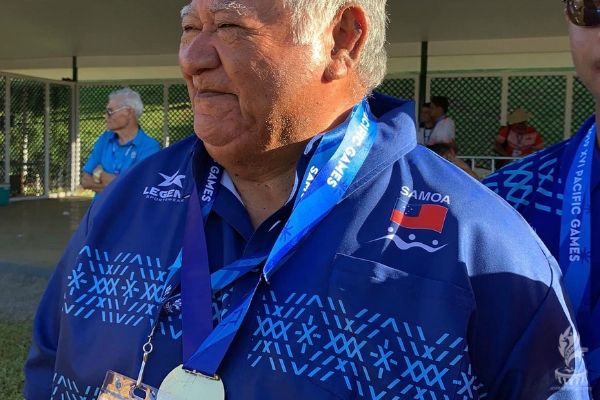 PM Tuilaepa Sailele Malielegaoi wearing the gold medal from Jill Walter.
Walter said it was also for "bringing the Pacific Games home for the third time since becoming prime minister." Samoa hosted the Games in 1983 and 2007.
Tuilaepa, 74, is Samoa's longest-serving PM, having been in office for more than 20 years.
Walter's first gold, won on her 18th birthday, ended the host nation's 13-year drought of gold archery medals. She also won gold with her father, Muaausa, in the mixed recurve on the final competition day.
Her childhood dream is to follow in her father's footsteps to the Olympic Games. Muaausa, president of the Samoa Archery Association, was the first Samoan archer to compete in the Olympic Games.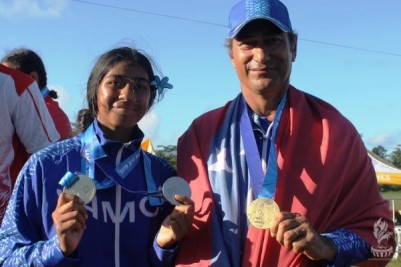 Jill Walter and Muaausa Walter with their family medal haul.
Winning the gold medal has been a journey of trials and tribulations for Jill, who first started in the sport at the age of five.
But with her history-making performance, the National University of Samoa student is well aware that being in the limelight brings a lot of responsibilities.
As the only daughter in a family of four, she knows she will shoulder the hopes of the country, her comrades, but most importantly her parents who have been at her side from day one.
"My mum, my spiritual motivator and number one supporter brought cupcakes to the tournament to celebrate my birthday," giggles Jill.
Walter says she hopes to do "justice to Samoa's expectation."
Two years ago at the Mini-Pacific Games in Vanuatu, she won two silver medals.
She plans to pursue a major in Information Technology when she returns to university after aborting her studies for a semester to take up four months of training in China.
"My Chinese coach is a tremendous help and I would like to publicly acknowledge him for improving my game and my confidence as an archer and a person," she said.
She will now focus on her studies again, while still maintaining her training to get to the next Oceania Championships.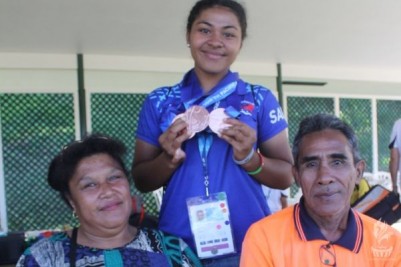 Naifoua Vise Timai became the first Samoan archer to win three bronze medals.
Timai won three bronze medals, including with Tauiliili, on her international debut only eight months after taking up the sport.
Timai also won bronze from the women's compound and women's ranking division, making her the first Samoan female archer to have three bronze medals from a Pacific Games.
She was persuaded to take up the sport by Muaausa Walter, and was chosen to train in China with over 200 young Samoan athletes specifically for the XVI Pacific Games.
She credits her Chinese coach, He Chunchen, for improvements to her technique and mind set in preparation and during competition.
"China was an experience of a lifetime and I am blessed to have been selected," she said.
"The experience made me a better person. Thank you to China and our Government for the opportunity."
She too will continue studying at NUS, fulfilling a promise to her parents Laupuasili Tuamasaga Fua and mom Mouena to finish her education.
And her ultimate aim is the Olympics.