Honours shared at inaugural women's para javelin event
Athletes from New Caledonia, Vanuatu and Solomon Islands made history at Apia Park Stadium on Tuesday, claiming the first ever medals in the inaugural Pacific Games women's para javelin event at Samoa 2019.
New Caledonia's Rose Vandegou claimed gold with a throw of 22.14 metres and a weighted score of 73.45 per cent, Vanuatu's Elie Enock won silver with a throw of 13.56m and a weighted score of 43.03 per cent, and Solomon Islands' Jeminah Otoa secured bronze with a throw of 18.25m and a score of 42.42 per cent.
The ambulant event, which means the athletes are standing, starred competitors with a range of disability classifications. The final results are calculated based on their throw distance and a score weighting that correspondents to the athlete's para classification and how close their throw distance is to the record score in that classification, meaning the athletes had a nervous but exciting wait to confirm who had secured silverware while calculations took place.
Read more: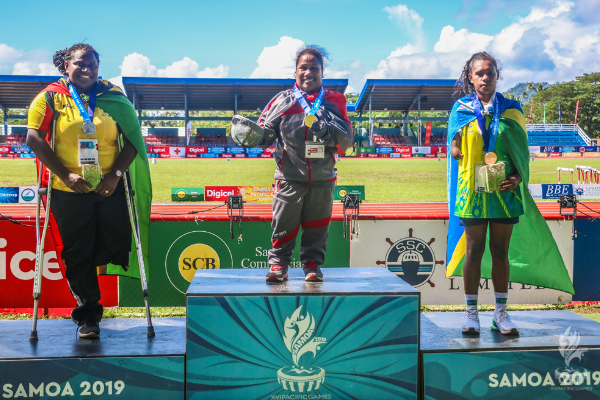 Athletes from New Caledonia, Vanuatu and Solomon Islands were the historic inaugural Pacific Games medalists in women's javelin ambulant, which was contested for the first time at Samoa 2019 (Credit: Pacific Games News Service)
Vandegou had a big smile on her face as she received the gold medal, showing just how much the win means to her.
"I'm extremely happy to win this medal," she told the Pacific Games News Service. "In training I normally throw 17 or 18 metres so today it was a great performance for me with 22 metres. It's my first time at the Pacific Games because, normally, I don't do javelin in public so I'm really satisfied with this result. It's brilliant to have this event in the Games for the first time because I wouldn't be here otherwise."
Silver medalist Enock was overwhelmed with her achievement.
"I'm so excited and I tried my best today," she said, her face beaming with joy and excitement. "My aim was to get a medal for my country. I was a little nervous at first but my coach encouraged me to do my best. I am so happy right now to win a medal and represent my country. And I will try my best to continue this dream in the future. I want to thank my coaches, my manager and also my teammates from Vanuatu."
Otoa, who won bronze, said: "I'm really proud of myself for winning this bronze medal. I want to dedicate this medal to my family and coaches, my friends, and also my country."
The eight competitors in the historic inaugural event were all from New Caledonia (2), Vanuatu (2) and Solomon Islands (4), and every one was honoured to have been part of para sport history at Samoa 2019.
Many of the athletes are also competing in other para track and field events at these Games, with more history yet to be written.