Gold for Tonga in women's shot put
Some heavy evening rain showers weren't enough to throw off Tonga's Ata Maama Tuutafaiva, who won gold in the women's shot put competition at Apia Park Stadium on Monday with a toss of 16.61 metres.
The silver medal was awarded to Nuuausala Sia Tuilefano of American Samoa, throwing 13.12m, and bronze went to Tahiti's Vaihina Doucet, who threw 12.63m.
"I was nervous to come to the ring, but I did my best," a thrilled Tuutafaiva told the Pacific Games News Service. "It was my first time to win a gold medal. I'm so happy."
If she was nervous, it was barely visible. In fact, each time Tuutafaiva threw in competition, she increased her distance anywhere between 41cm and 1.65m, eventually ending on her gold medal-winning toss of 16.61m.
Read more: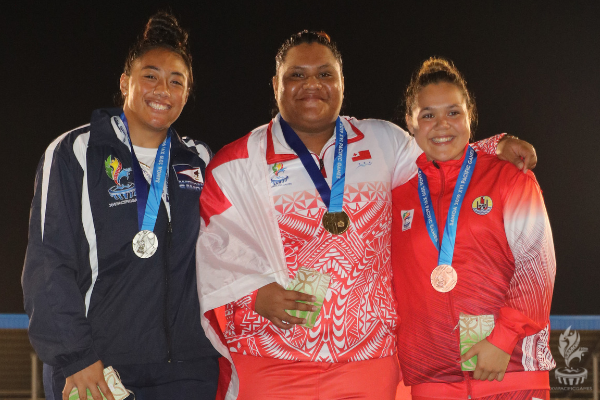 Tonga's Ata Maama Tuutafaiva won gold in the women's shot put, throwing more than 3 metres further than the competition (Credit: Pacific Games News Service)
The current Pacific Games women's shot put record, held by Tonga's Ana Po'uhila and set in 2005, is 16.92m. Tuutafaiva, at just 20 years old, is out to break that record. "This is my first gold medal, but my target is to break the record of my countrywoman," Tuutafaiva said excitedly.
Tuutafaiva also won bronze in women's shot put at the Port Moresby 2015 XV Pacific Games with a throw of 13.03m. Her gold-medal winning throw at Samoa 2019 bettered that mark by more than 3.5 metres.
"Training is hard in Tonga, I can't compete in a ring, so this is my ring," Tuutafaiva said as she pointed to Apia Park Stadium's shot put circle. Regardless of the difficulties she faces in training, Tuutafaiva remains faithful. "Thank you to God, who gives me the power."
Despite heavy rain, the competitors maintained good spirits throughout the evening and embraced each other warmly when the competition had finished.
Nine different Pacific nations were represented by the 14 women who competed: Tonga, American Samoa, Tahiti, Cook Islands, New Caledonia, Guam, Samoa, Vanuatu, and Nauru.
Athletics resumes at Apia Park Stadium on Tuesday 16 July at 9.30am with women's javelin. Entry is $5 and free for children under 15.