Pole vault silver medalist eyes decathlon gold
Papua New Guinea's Karo Iga, the pole vault silver medalist at the Port Moresby 2015 XV Pacific Games, made his debut in the men's decathlon on Monday at Samoa 2019, where neither rain nor clouds could dampen the mood of the afternoon.
The decathlon got underway at Apia Park Stadium with the 100m sprint followed by long jump, shot put, high jump and the 400m under the shadow of the Pacific Games torch blazing through the gloomy sky.
Iga, whose forte is the pole vault, one of the five remaining events of the men's decathlon, currently sits at second place on the results table in his bid for a medal.
Read more: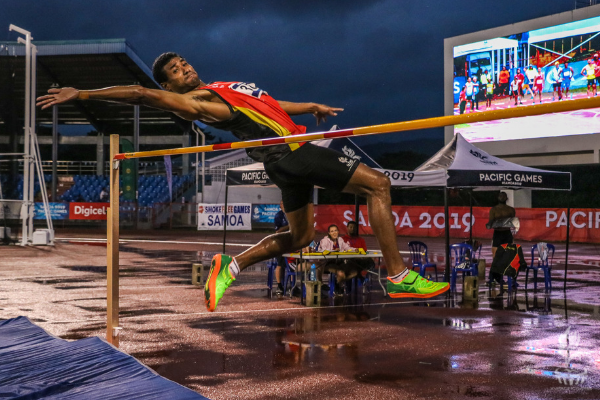 PNG's Karo Iga and Cletus Mosi are vying with New Caledonia's Florian Geffrouais for decathlon gold (Credit: Pacific Games News Service)
The 27-year-old dominated on the track and field, leading in all events except for shot put but, that did not diminish his satisfaction.
"I am happy with my performance in the first five events and I am looking forward to the last five events, especially pole vault because I know I can do well," he said.
"Some of the last five events will be a challenge for me but I am happy with how well I went tonight (Monday) and I think I can do well tomorrow," concluded Iga.
Iga is competing alongside PNG teammate, Cletus Mosi, who currently sits at fourth place in the standings and is hopeful for the final five events as they defend the men's decathlon gold won by their countryman, Robson Yinambe, at Port Moresby 2015.
"I want to achieve what I have been training for and win a bronze, silver or even the gold medal. I will be happy as long as I get a medal," said Mosi.
Despite some concerns over the 400m, Mosi expressed his satisfaction at his finish on Monday evening, halfway through the decathlon. "I am happy with my performance this afternoon and my 400m finish tonight although my strides were affected by a bit of lactic acid in my leg.
"I know that I will have to improve on my throws in javelin and discus but I am looking forward to the 100m hurdles and pole vault," concluded Mosi.
Sitting in first place and standing in the way of a gold medal for either of the PNG duo is Florian Geffrouais from New Caledonia. He is leading with 3,773 points after his outstanding performance in the shot put, where he scored 755 points, 264 points more than Iga.
Overall, Iga is in second place with 3,726 points, Tahiti's Timona Poareu is in third place with 3,470 points and Mosi is in fourth place with 3,330 points. The remaining six competitors will have their work cut out to overhaul the leading four on day two.
Tuesday's remaining events – javelin, discus, 110m hurdles, pole vault and the 1,500m – will determine who will be on the podium at the end of the men's decathlon. The action resumes on Tuesday at 10am at Apia Park Stadium. Entrance is $5 or free for children under 15.