'Push past your limits': visually impaired gold medalist
New Caledonia took four of the six podium places in the men's and women's 100m ambulant para events at Samoa 2019, with the women's race being contested for the first time at these Games.
In dominant performances at Apia Park Stadium on Tuesday, New Caledonian athletes won gold and bronze in the men's race, and gold and silver in the women's.
Visually impaired athlete Sylvain Bova won gold with his guide in the men's sprint, finishing in 11.86 seconds and with a weighted score of 92.07 per cent to set a new Pacific Games record. The silver medalist was Steven Abraham from PNG, whose time of 11.78 seconds was also faster than the previous record (set by PNG's Francis Kompaon at the Port Moresby 2015 XV Pacific Games). His percentage score was 81.92 per cent. Bronze was secured by New Caledonia's Falicien Siapo in 12.87 seconds (82.43 per cent).
Read more: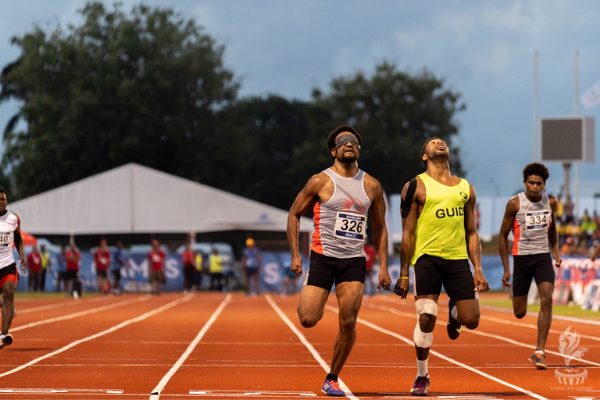 Visually impaired New Caledonian sprinter Sylvain Bova won gold in the men's 100m ambulant at Samoa 2019 (Credit: Pacific Games News Service)
The athletes' final medal placings take into account both their race time and a weighted score according to their para classification, which indicates how close their time was to the existing record in their classification.
"I'm happy to win gold. It's the result of hard work," a delighted Bova told the Pacific Games News Service. "I came here to compete and win for New Caledonia and now I've won gold, so I'm very proud. I'd like to thank my trainer and my coach. This is my second Pacific Games and I won gold last time in Papua New Guinea too, and also at the Pacific Mini Games in Wallis and Futuna (2011) and Vanuatu (2017).
"My message to people with visual impairments is to push past their limits, and to rise up with courage, determination and strength."
The race was disrupted by a false start, which unsettled some competitors, including silver medalist Abraham.
"It was a good race, but after the false start I had already used up my energy so I went back to the starting line and started to shake my leg and muscles to gain back the energy that I lost, so that I could run the race," Abraham told the Pacific Games News Service.
"It is my first time competing, and I feel happy knowing that my family are watching me back home and they got to see me win a medal."
In the women's 100m ambulant, New Caledonia's Joanne Lhuillery won gold in 13.88 seconds with a score of 86.09 per cent. Her teammate Rose Vandegou, who earlier in the day had won gold in the women's javelin ambulant, claimed silver with a time of 21.69 seconds and a score of 81.92 per cent. Bronze went to Marcelline Moli from Vanuatu who finished in 15.26 seconds with a score of 78.30 per cent.
Runners from New Caledonia, Papua New Guinea, Vanuatu and Fiji competed across the men's and women's para sprint events.
Athletics continues on Wednesday from 2.30pm at Apia Park Stadium, which para events resuming on Thursday from 4.15pm. Entry is $5 or free for children under 15.