Golden joy for Fiji in women's heptathlon
Fiji's Elenani Tinai claimed gold in the women's heptathlon at the Samoa 2019 XVI Pacific Games on Thursday, after setting the pace in Wednesday's first four events and progressing strongly to the finish line at Apia Park Stadium.
Tinai topped the standings with 4,550 points made up of consistent performances in all seven events particularly the 100m hurdles, shot put, 200m race and long jump.
Papua New Guinea's Raylyne Kanam settled for silver with 4,101 points while her countrywoman, Edna Boafob claimed the bronze medal with 3,848 points.
Read more: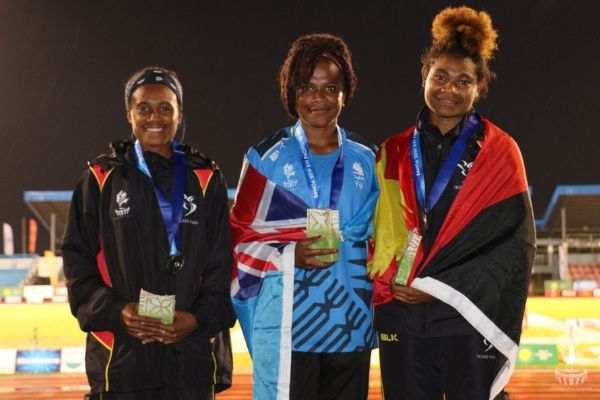 Fiji's Elenani Tinai dominated the women's heptathlon across two days of events (Credit: Pacific Games News Service)
Tinai, who is currently studying and competing in the USA, told the Pacific Games News Service that she was selected based on her improving performances since she participated in the Port Moresby 2015 XVI Pacific Games.
"I have been doing heptathlon for the last two seasons back in my school in America and made a lot of improvements, and that's why I was selected to represent Fiji in this particular event here in Samoa.
"I did expect to win a medal, specifically gold, because I was prepared for it," she confidently said.
"I feel great about winning my first gold medal at the Pacific Games and I'd like to dedicate this medal to my family for always supporting me, and always reminding to me to finish what I've started, my coaches for preparing me for this moment, and my boyfriend for always being my number one supporter," she said.
Right after Tinai received her gold medal she was back on the track for the women's 400-metre relay in which Fiji scored the silver medal.
Boafob, who is new to the Pacific Games and came to Samoa to primarily participate in the women's 400m, revealed that she had not expected to participate in the women's heptathlon but said 'yes' when asked to do the event.
"I only trained for the 400m but my coach asked if I wanted to do the heptathlon so I said yes, and I am happy I did the heptathlon because now I've won bronze for my country, thanks to my coaches," she said.
Athletics concludes on Friday at Apia Park Stadium with a packed day of action from 2.30pm onwards. Entry is $5 or free for children under 15.