Sport preview: Triathlon and Aquathon
The Triathlon is scheduled for Saturday 20 July at Sogi Recreational Park, close to downtown Apia with Aquathlon on Friday.
It's one of the toughest sports on the international calendar - swim, bike, run.

Held at the end of the second week of the Games, a total of nine countries will be competing this year: American Samoa, Fiji, Guam, New Caledonia, Papua New Guinea, Samoa, Solomon Islands, Tahiti and Tonga.
This year's course will cover the villages of Sogi and Mulinu'u.
Entry is free.
START LISTS

A number of athletes from Samoan, Fijian, Tongan and American Samoa had the opportunity to test this course during the Samoa National Triathlon Championships along the Apia Waterfront on 18 May.

Samoan triathlete, Sosefina Sooaemalelagi came first in the women's event, finishing in a time of 1 hour 15 minutes – two minutes faster than her goal. Samoans will be familiar with her as she featured in the athlete profiles shown on local television stations in lead up to 2019 Games.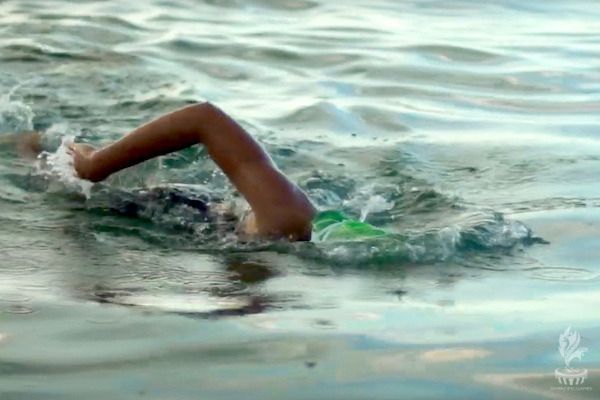 Swimming is the first leg in Triathlon
Fijian triathlete Rhys Cheer, 17, who came second in the Men's at the test event said: "It is a good experience to learn about the [transition] areas that we'll be using during the Games. Now I know what to work on, and also the level of competition in the Pacific Games. Training has been really good and I am very positive about the Games."
New Caledonia dominated the podium at the 2015 Pacific Games in Papua New Guinea.
Charlotte Robin has already won gold in the Open Water Swimming on the first day of competition of the Games, so will be one to watch as she strives to match her results and retain the title of Triathlon Individual Elite Female
Athletes are competing in Mixed, Men's and Womens Aquathlons on Friday July 19.
One of the simplest and most accessible forms of multisport, this consists of three legs, with a swim sandwiched between two run segments.
Aquathlons are most similar to triathlons, with the key difference being the lack of a cycle leg.
The official distances for the annual ITU Aquathlon World Championships are a 2.5km run, 1km swim, and 2.5km run.
This can change if the water temperature is lower than 22 degrees, in which case the race becomes a 1km swim followed by a 5km run.
Aquathon is an excellent way for novice athletes to enter the world of multisport, and for experienced triathletes to add something different to their race routines.