PNG's Toako impresses in women's javelin victory
Papua New Guinea's Sharon Toako took gold in a dramatic women's javelin competition that had to be paused due to heavy rain at the Samoa 2019 XVI Pacific Games on Thursday.
Toako secured top spot on the podium at Apia Park Stadium with a throw of 47.13m. Linda Selui of New Caledonia took silver with a toss of 45.49 and Gwoelani Patu of Tahiti took bronze with a throw of 42.17m.
"I was 100 per cent confident that I was going to get this gold, so I just went and did my best and I got it" a vibrant Toako told the Pacific Games News Service.
Read more: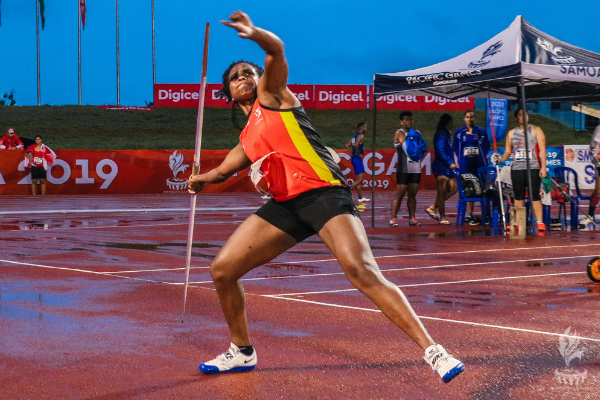 PNG's Sharon Toako won gold in a rain-affected women's javelin competition at Samoa 2019 (Credit: Pacific Games News Service)
Many of Toako's teammates from PNG had lined up to the right of the podium to support her golden victory, enthusiastically singing the national anthem and cheering loudly as her name was announced.
"I am giving back to Papua New Guinea, my family, my friends, and my country with this gold," Toako shared excitedly.
Selui, who took silver, was competing in her sixth Pacific Games here in Samoa. "This was my last Games," she revealed. "It is, after all, my sixth Games. I'm not young anymore and I have three titles from the Games."
Selui said she is undecided on whether her athletics career will continue. "I don't know if I'll throw anymore – I need to go back home, see my children, the family, rest, and then ask myself the question of whether I want to continue. It does involve sacrifices, after all, at work, with the kids. Like my dad always said, 'If you still feel good, keep going'," Selui shared.
Nine athletes representing seven pacific nations competed in the women's javelin: Northern Mariana Islands, New Caledonia, Samoa, Guam, Fiji, Tahiti, and Papua New Guinea
Athletics concludes on Friday at Apia Park Stadium with a packed day of action from 2.30pm onwards. Entry is $5 or free for children under 15.