Gold medalist on mission to grow para table tennis
The undisputed champion of para table tennis in the Pacific has made an emotional plea for more women to take up the sport, even though it could soon mean the end of her golden reign.
Fiji's Mere Roden defended her title in the women's singles seated gold medal match at the Samoa 2019 XVI Pacific Games on Saturday, defeating fellow Fijian and training partner, Akanisi Latu, 3-0.
But, because the event had just three athletes competing (the two Fijians plus Tonga's Satua Ngungutau), a bronze medal match could not be held.
Read more: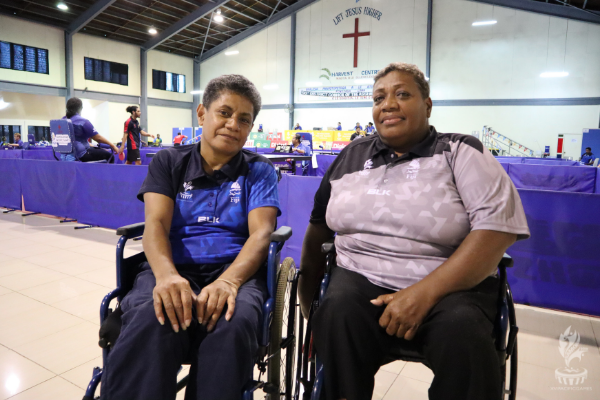 Mere Roden (L) with fellow Fijian Akanisi Latu (R) who contested the women's seated para table tennis gold medal match at Samoa 2019 (Credit: Pacific Games News Service)
Despite hopes that the number of players would double from the three that competed at the Port Moresby 2015 XV Pacific Games (Roden, plus PNG's Vero Paul Nime and Solomon Islands' Hellen Saohaga), this has not happened. Indeed, at the Vanuatu 2017 Pacific Mini Games there were only two entrants – 51-year-old Roden and 61-year-old Latu.
Roden was introduced to para table tennis in Fiji in 2014 through the Smash Down Barriers program, which is run by the International Table Tennis Federation Oceania and funded by the Australian government through the Pacific Sports Partnerships.
Within two years, she was competing at the Rio 2016 Paralympic Games (Fiji's first para table tennis player to do so) and has become one of the most recognisable faces in Pacific para sport.
However, rather than seeking more individual success, her main motivation now is to encourage the next generation of Pacific people with disabilities take up table tennis. And she is taking the recruitment drive into her own hands at Samoa 2019.
"It has been a mission for me here, talking to other countries and asking if there's a possibility of them getting female wheelchair users to be parts of these events in future," Roden told the Pacific Games News Service.
"Someone has to do something. As the saying goes, 'you have to be the change you want to see'. So if I want to see a lot of women in wheelchairs playing table tennis, I've got to be the one participating and at the same time advocating, talking to the players here about getting more women in wheelchairs in to participate."
Aged in their 50s and 60s respectively, Roden and Latu are defying community expectations in Fiji about the demographic of international sportswomen. And although Roden's age is proving no barrier to her performances, she wants to see younger people follow her lead.
But growing the participation base is proving tough and slow. Roden admits that many potential players who turn up for training expect to be whisked away on an overseas trip within months, and seem reluctant to put in the commitment required of international athletes.
"I'm just hoping that the young ones who are saying that they want to be part of this, who say they want to see the world through table tennis…it's not just saying these things, you've got to come in and be part of it," said an emotional Roden.
"People have got to stop talking about things and start actioning. Because that's exactly what we did. We wanted to be part of this, we came here, we tried it, and we hung onto it.
"Sometimes we feel like we're on our own, because we are in these (wheelchairs) and people have a different perspective towards us. But we are not doing this for ourselves, we are doing this for the others who are coming behind us, the younger ones."
Wiping away tears, the 51-year-old gold medalist reflected: "The only reason I'm holding onto this sport is that I love it, but at the same time I know that I'm getting older and I'm doing it because I'm thinking of other women with disabilities. It's always in my heart that one day I will see maybe five women in wheelchairs playing table tennis at the Pacific Games."