Fiji scoops both gold medals at Pacific Games rugby 7s
Fiji's men's and women's rugby 7s squads scooped both gold medals at Samoa 2019 XVI Pacific Games, successfully defending the titles they won in Papua New Guinea in 2015.
In the gold medal final in Apia, Fiji proved to be the better side as their defence held firm to concede their second try of the tournament to Australia, and scoring three of their own. Fiji beat Australia 19-5.
Proud Fijiana Women's 7s team coach Saiasi Fuli said that he was impressed by the level of commitment by the team as they worked hard throughout the full game to keep their hopes in defending their gold medal alive.
"The girls maintained their composure and stuck to the overall plan of coming to Samoa and defending the gold medal that was won in 2015," he said.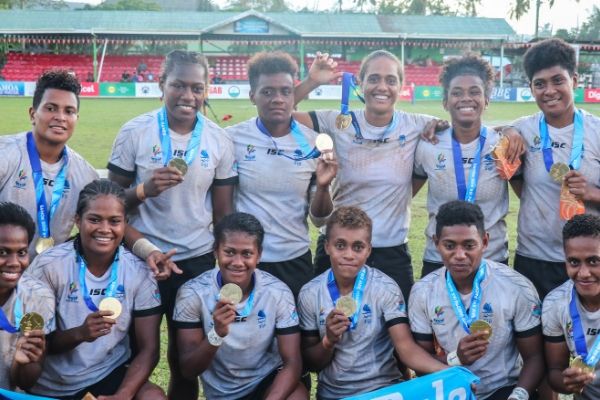 "We knew that Australia is the outside influence in the setup of the pool and we just needed to double up our efforts and continue to work hard and apply the pressure to force them to make those mistakes.
"I think the girls are really just playing for pride and passion and continuing the journey of restoring women's rugby in Fiji. That is the whole purpose of coming to Samoa and hats off to the girls for playing well throughout the tournament," Fuli added.
The bronze medal went to Papua New Guinea, beating Samoa 28 - 12.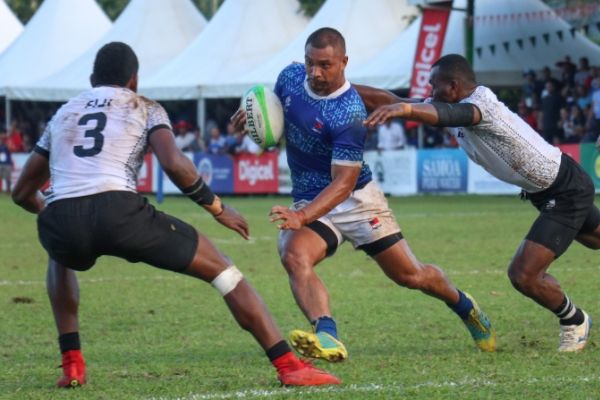 Fiji beat Samoa 7-5 to take the men's gold medal. (Image: Oceania Rugby)
In the men's gold medal match, home team Samoa lost to Fiji 7-5.
It was a tough game that ended with only 2 points between them, but a match full of passion and pride at stake as both teams looked to come out on top.
Fiji Men's Coach Gareth Baber said that the challenge for the team was to be in control both with and without the ball.
"We didn't have a lot of ball but what we did was; we worked with each other especially in defending and that's all about control and emotion.
"In the final we knew it was going to be tough against Samoa, and we knew it was going to be physical as well.
"We know when we play against Samoa we are going to get to that level but it's all about control at the end of it and when we went down to the sin bins, we worked extremely hard to ensure the six did the job for the seven," Baber added.
Bronze went to Tonga, 19-10 against Cook Islands.
In what was expected to be a tough hit out, the Cook Islands just fell short in the end despite their efforts for a late comeback.