Fiji pair duel for gold at Samoa 2019 para-table tennis
It was a battle for gold between Fijian teammates in para women's seated table tennis on an emotional Saturday at the Harvest Centre Faleata.
Para table tennis legend Mere Roden prevailed with a decisive win over Akanisi Latu, 3-0.
The 2016 Fiji Sportswoman of the year and Rio Olympics flag bearer was excited about her victory.
"I'm happy that I made it," she said.
"I won gold for my country, for people with disabilities back home, my family, my grandchildren, and everybody that I left behind."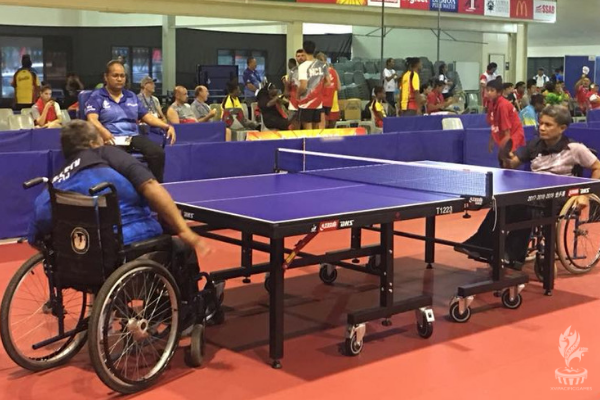 Fiji's Akanisi Latu (L) and Mere Roden (R) met in the women's seated table tennis gold medal match (Credit: ITTF Oceania)
Belief played a big part in her decisive win.
"First and foremost it's believing in God, my strength is from his wisdom," she added, tearfully.
"I can't do anything without him and I'll always be thankful. I don't have enough words to acknowledge how much God has done for me and has allowed to happen and this victory is because of him."
Her next goal is to qualify for the Tokyo Olympics in 2020.
In a tense and very close match, Ioane Hawaii of Tuvalu won gold in the para men's seated table tennis event.
He beat Tahiti's Vincent Tehei, 3-2, in front of a big crowd. After going point for point in the last game Hawaii prevailed 20-18.
Fiji's Iakoba Taubakoa won bronze.
"[I was] nervous, but I [tried] my best to get a gold for Tuvalu," said Hawaii. "It means a lot, especially for people with disabilities.
"Tuvalu is a small country and I want to make it proud - first gold."
In para women's ambulant, Tahiti's Heiava Lamaud won the final and the gold 3-1 over Veronique Lussiez of New Caledonia. Noela Olo of the Solomon Islands won bronze.
Avelino Monteiro of New Caledonia took out gold in the Para Men's ambulant, beating Papua New Guinea's Haoda Agari, 3-0.
Tahiti's Francois Marua'e from Tahiti won bronze.