Dual bronze medalist defies hearing and speech impairments
Papua New Guinea's James Gundu proved that hearing and speech impairments were no barrier to success at the Samoa 2019 XVI Pacific Games as he claimed two bronze medals in long distance running as part of his country's hugely successful athletics team.
The 26-year-old won bronze in both the men's 10,000m and 5,000m at Samoa 2019, despite only being able to communicate with his coach and teammates via sign language.
"I'm really happy because it's my first Pacific Games, and it's amazing to win two bronze medals," an overjoyed Gundu told the Pacific Games News Service, with teammate Messach Fred interpreting through sign language.
"The 5000m is a hard race, and there's a lot of competition. During the race, I ended up at the back because all the big runners overtook me, but I just waited at the back and I didn't panic, I controlled my race, I kept fighting and I came strong at the end and I'm extremely happy. I'd like to thank my coach and all the support staff."
Read more: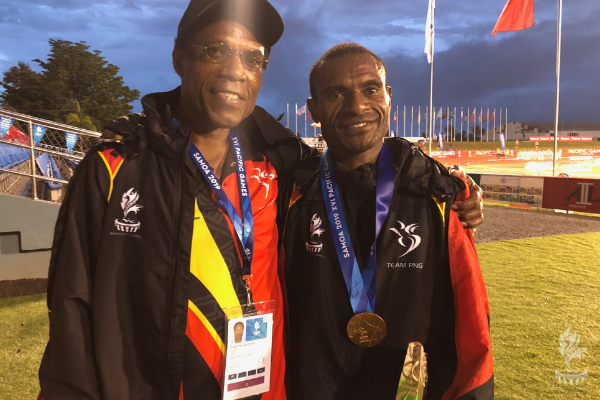 James Gundu (right), pictured with coach Francis Manau, defied hearing and speech impairments to win two bronze medals at Samoa 2019 (Credit: Pacific Games News Service)
Fred, who also won two medals, bronze in the men's 800m and silver in the 1500m, said Gundu's deafness did not pose any problems when competing.
"He can't hear the starting gun, but he watches everyone and he knows when they move, that's when the race is starting so he starts running. He can see the numbers and he's counting the laps, so he knows which lap he's on and when our coach gestures to him 'final lap', he speeds up and goes for it. His speech and hearing problems don't matter."
Fred also revealed that Gundu taught him sign language when the pair, who had never met before, joined the Team PNG athletics camp at the country's National Sports Institute, and the two have been close friends ever since.
PNG's middle and long distance running coach, Francis Manau, agreed that Gundu's hearing and speech impairments didn't disrupt his training and running abilities.
"I'm very happy about having James on our team because he fits in well with all the boys in camp," Manau told the Pacific Games News Service.
"Even though he can't speak or hear, he can read and write so when I give training programs to him, he just follows them. He trains hard, he works hard and he has been very focused on the Games. He didn't want to let anyone down."
Manau also revealed he had an inkling Gundu was likely to win medals at Samoa 2019.
"Two weeks before coming here to Samoa we had a training camp in Australia and, just watching how he was training, I knew something special was coming," Manau smiled.
"So I'm not surprised he won two medals. I knew he was going to come good. At the start James was just a local boy in his hometown, watching other people running around. He decided to join them and now look where he is with all those medals around his neck. I'm so happy for him."
PNG comfortably topped the medal tally in athletics track and field events at Samoa 2019 after an impressive five days of dominance, collecting 14 gold, 20 silver and 17 bronze.