Triple gold for PNG's Gahekave in long distance events
Papua New Guinea's Poro Gahekave is aiming for a fourth gold medal in Saturday's Samoa 2019 XVI Pacific Games half marathon after collecting her third on the track at Apia Park Stadium on Friday.
Gahekave finished first in the women's 3000m steeplechase in 11 minutes, 21.79 seconds, comfortably ahead of PNG teammate Mary Tenge in 11:43.82. Guam's Alison Bowman secured bronze in 12:19.23.
Papua New Guinea athletes have outdone themselves on the track at Samoa 2019, collecting multiple medals on each day of competition. And according to Team PNG's women's running coach, Francis Bernard, it is the result of years of talent identification and hard work.
Read more: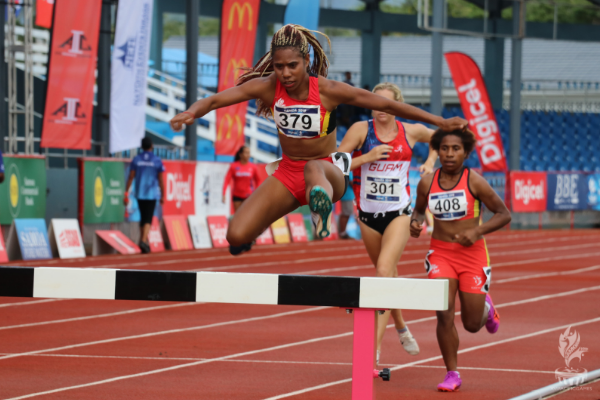 PNG's Poro Gahevake claimed gold in the women's 3000m steeplechase for her third win at Samoa 2019 (Credit: Pacific Games News Service)
"When we started collecting potential athletes through this program around the country and we started training them up in the highlands at Goroka at the National Sport Institute, they stay there for a year and the kids train, eat , live together and then they come here with that one dream in winning for Papua New Guinea.
"We know that we will face a lot of challenges when we came up against New Caledonia and the Solomon Islands, but we managed to overcome them, I would like to express my gratitude to Athletics Papua New Guinea through Tony Green, who is the president, for spearheading a program involving athletics."
With three golds to her name and the possibility of a fourth on Saturday, Gahekeve said it had been a memorable Games.
"One of the things that I will miss the most is being here with the people who are so nice to me and everything that I have experienced here," a reflective Gahekave told the Pacific Games News Service.