Solomon Islands para athlete hopes Games hosting will inspire others
Solomon Islander Jeminah Otoa, who won bronze in the women's javelin ambulant, and narrowly missed out on silverware in two other events at the Samoa 2019 XVI Pacific Games, hopes her country's hosting of the next edition of the Games in 2023 will encourage more women with disabilities to take up sport.
The 20-year-old achieved a milestone for female para athletes in her country after scooping the bronze medal in the first ever women's javelin throw ambulant at the Samoa 2019 XVI Pacific Games. She also placed fourth in the shot put ambulant and 100m ambulant.
"It's good that Solomon Islands will host the next Pacific Games, and I think this will help me and encourage other people with a disability to participate in sport," Otoa told the Pacific Games News Service.
Read more: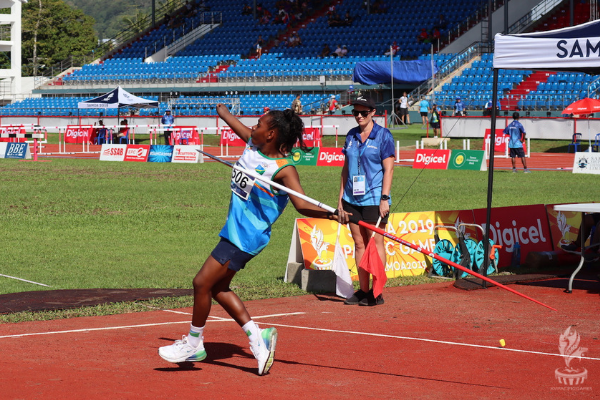 Jeninah Otoa made history for Solomon Islands, winning bronze in the inaugural women's javelin ambulant competition at Samoa 2019 (Credit: Pacific Games News Service)
"I will go back home and talk to other women with a disability, to encourage them to come and join us (para-athletics team) in sport, so that they can feel like they can achieve something as well."
Otoa revealed that competing in athletics has changed the way people perceive her, and how she feels about herself.
"For me, being an athlete and achieving my goals has made my family, my friends, my community and my country believe in me more. They are proud of me and they encourage me to continue achieving my goals, and that makes me feel happy.
"Para-athletics has helped me to have confidence in myself and expose myself and my abilities, and it has helped me meet other people with a disability like me who support me, and I support them. I am so happy that I am part of para-athletics."
The Solomon Islands para-athletics team at Samoa 2019 comprises four women – Otoa Otoa, Noela Olo, Rose Lidia and Melvina Voua – one of the largest female para teams at the Games.
A visibly proud Otoa said she hoped their involvement will encourage other para athletes in their home country to aim high in sport.
"My team's participation will encourage other athletes like me to never give up and they will come and continue training with me whether it be in javelin, shot put or the 100 metres," she said.
She was not shy to express her excitement but very humble in acknowledging her support team when asked about her performance and competing alongside her Solomon Islands sisters.
"I feel excited that we competed together, and I am very proud of myself. I would like to say thank you to my coaches for their support and helping me with my training to get me this far, and I am also very proud of my country."