Clean sweep for PNG at Pacific Games touch
Papua New Guinea has won gold in both men's and women's at the Samoa 2019 Pacific Games Touch Rugby tournament.
Samoa won both silver medals and Fiji, both bronze.

PNG women's open coach Peter Stoddart said: "They've put in a lot of hard work and effort and it's paid off."
"We had a few injuries going into that last game with Samoa, but they pulled together. They did it for each other and their country".
Looking back at the week, he reflected on a job well done.
"The tough games were between Fiji and Samoa. It wasn't as easy as the scoreboards made it out to be. The team were really struggling for air, but managed to push through."
It was an emotional win for Grace Kouba from the PNG team.
"I'm excited and overwhelmed, I just can't express myself, I'm so happy," she said. "This was such a great privilege for me to play in my second Pacific Games tournament. It's a different atmosphere from the 2015 Games, playing on different turf and winning gold is really something special.
"Our hard work really paid off. It's been a tough week for us all, but we gave it our all and left it all on the field."

Read more: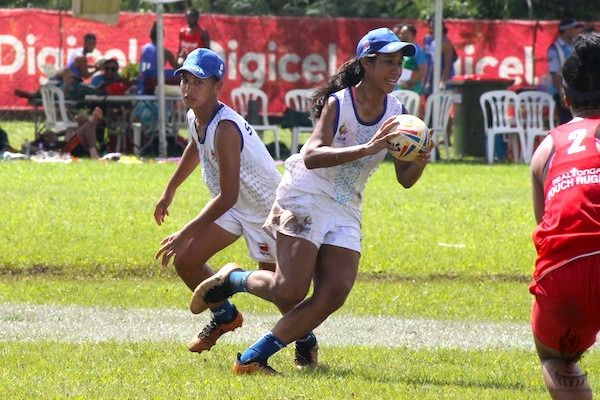 Brilliant action at the touch all this week with the mixed competition to come. (Pacific Games News)
PNG's men's open captain Eugene Eka said: "It's a special feeling winning gold away from home. It's also special winning gold with an awesome bunch of brothers and management," he said.
"Everyone came prepared to play against us and we expected that, but our coaches trained us well and put us through a lot of drills which set the standard for us to win this."
He said it meant a lot representing a country of 8 million people at the Pacific Games.

"The jersey we put on is not for us, it represents our families back home, it really means a lot. It's humbling to know that we have achieved what was expected from our families and friends".
Team Samoa won silver both men's and women's open.

"Coming into day three, we were very determined after our loss against Cook Islands yesterday," said Team Samoa Open Women's captain Lote Lima.
"We came today knowing what to improve on."

For her, winning silver on home turf was an honour and a privilege.

"It's an exciting tie for a lot of the younger girls in our team who are also debut players. Although we weren't able get the gold we are very blessed to have been allowed this opportunity," she continued.
"I'm so proud of our girls...this experience has brought us closer together to the point where we don't see each other as teammates but as sisters".
Samoan men's open vice-captain Aaron Rogers said that he was gutted they weren't able to get the gold.
"But we gave it our all and put our hearts on the field and are very thankful for the outcome," he said.
"It was a beautiful thing to see so much support and love from our families and friends".

The mixed tournament continues from 18-20 July.