PNG enjoy second day of medals in long distance track events
Papua New Guinea showed impressive endurance to claim another haul of medals on the track at the Samoa 2019 XVI Pacific Games on Tuesday, snatching all three places on the podium in the men's 10,000 metres and winning a further three medals across the women's and men's 800 metres.
In front of a packed house at Apia Park Stadium, PNG secured all three gongs in the men's 10,000m by a large margin, but less than five seconds separated their gold, silver and bronze athletes – Simbai Kaspar, Siune Kagi and James Gundu.
From the moment the gun sounded Kaspar led the group, keeping a constant unbreakable distance between himself and the competition in an impressive performance for a race that took more than half an hour to complete.
Read more: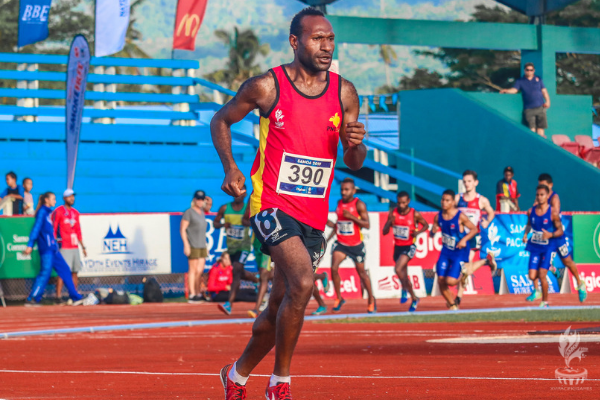 PNG's Simbai Kaspar won his second gold of the Games in the men's 10,000m on Tuesday (Credit: Pacific Games News Service)
Having won gold in Monday's men's 3,000m steeplechase, Kaspar did not disappoint, once again securing first place for PNG in a time of 33 minutes and 34.90 seconds.
Not far behind him, Kagi (33:36.86) and Gundu (33:39.01) proved to be a formidable duo, keeping pace with each other until Kagi broke into a sprint during the last 100 meters, winning silver by a mere three-second difference.
When asked about his victory Kaspar thanked his coach and rigorous training program. "I planned to run 1 minute 15 seconds or so for one lap, so I just maintained the same pace and I didn't even exhaust fully," he told the Pacific Games News Service. He added that he was satisfied to secure a second gold for PNG in the space of 24 hours.
This was silver medallist's Kagi's first time competing at the Pacific Games and he said: "I was very happy to participate with other countries and run in my first big event. I thank God for giving me the talent to run". Kagi also spoke on behalf of bronze medalist and teammate Gundu, who has a speech and hearing impediment, saying: "We are all very happy as Team PNG, we train strong so that we can raise the flag of Papua New Guinea".
Moments later in the women's 800m PNG also took silver and bronze, but it was Keely Small from Australia who raced away with gold in a time of 2 minutes and 10.53 seconds. Donna Koniel (PNG) won silver in 2:14.17 and Jenny Albert (PNG) was close behind in 2:16.30.
Despite finishing first, Keely Small said: "I wasn't quite happy with the overall time but I tried to go as fast as I could for the first lap and then maintain my speed to the end. Overall I'm definitely stoked to get the gold for Australia". Having won gold at the Buenos Aires 2018 Youth Olympic Games last year, Small said her major goal is to qualify for the Tokyo 2020 Olympic Games, and she plans to do cross country training in the meantime.
Silver medalist Koniel expressed discontent with her results, saying: "I'm not feeling that good, because it's not my best. I think for next time I have to stay more focused and not put too much pressure on myself. But, at the end of the day, it's anybody's race".
Bronze medalist Albert revealed PNG's athletics team has been training for the past year and a half for the Pacific Games, which may be the reason behind their widespread success.
The final long distance race of the night was the men's 800m, which saw Alex Beddoes (Cook Islands) win gold, Ephraim Lerkin (PNG) take silver and Peni Petero Veitaqomaki (Fiji) secure bronze.
Finishing in an impressive time of 1 minute and 53.18 seconds Beddoes had the crowd on their feet, taking the lead in the second lap in an unexpected burst of energy.
"I was trying to do my best on the track, just run fast and put on a good show. I wanted to take the win today and I'm happy that I was able to do that."
When asked what advice he would give to anyone thinking about taking up running after being inspired by Samoa 2019, he said: "Just get involved, the most important thing is to have fun and enjoy it. This sport has an amazing atmosphere so make the most of it".
This race was silver medalist Lerkin's first time competing in the 800m at international level, so he was pleasantly surprised with the results, finishing in 1:53.78.
"I'm a 400m hurdler, that's my usual event, which is tomorrow," he revealed. "But I just came and did the 800m as my new event."
Lerkin was proud to win yet another medal for his country in athletics and a humble gratitude to God seems to be a running theme in the PNG team, with Lerkin saying: "Above all, I want to thank the lord for the strength, and without him I cannot do this. So I thank him for the talent".
Athletics continues on Wednesday from 2.30pm at Apia Park Stadium, and all eyes will be on PNG in the next set of track events. Entry is $5 and free for children under 15.