Australian youngster wins gold in women's hammer throw
Australia's Alexandra Hulley won the women's hammer throw at the Samoa 2019 XVI Pacific Games at Apia Park Stadium on Tuesday, dominating the field with a winning toss of 64.37 metres.
Silver was awarded to New Caledonia's Ellise Takosi, who threw 51.73m, and bronze went to Jacklyn Travertz of Papua New Guinea with a throw of 47.99m.
Hulley, who is just 21, has been competing in the hammer throw for eight years. However, she didn't let her age stop her from dominating the field. "I was pretty confident, I thought to myself 'I'll just get out there and throw as far as I can today'," Hulley told the Pacific Games News Service.
Read more: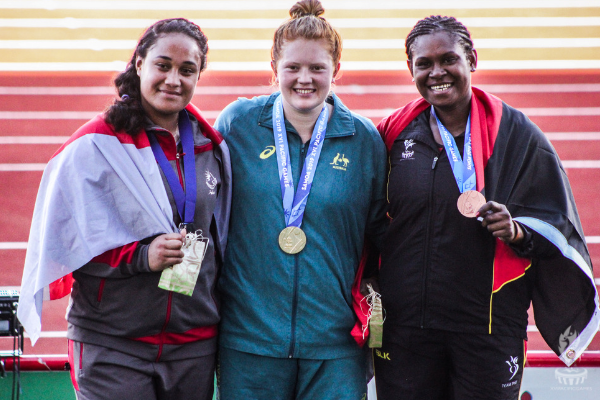 Athletes from Australia, New Caledonia and Papua New Guinea reached the podium in women's hammer throw at Samoa 2019 (Credit: Pacific Games News Service)
She also revealed that this time next year she hopes to be competing at the Tokyo 2020 Olympic Games. "I'm going to take a bit of time off now to relax and get around Samoa and then go home and work hard again to try and make the Olympics," Hulley said.
Another notable finish came from bronze medallist, Jacklyn Travertz. "I knew there were some good throwers, but I was just working on what I needed to work on. I knew it was going to be a good competition, but I just had to believe in myself because I've worked hard for this."
With her throw of 47.99m, 25-year-old Travertz not only won bronze, but also set a new national record in women's hammer throw for Papua New Guinea.
"It means a lot to me. The first time I competed in the Pacific Games I finished bottom, and so to come out like this and win a bronze medal in a competition where there are a lot of good throwers, that's unbelievable to me."
Travertz is already thinking ahead to her next meet, which will conveniently be in her home country. "We've got the Melanesian games coming up in PNG, in which I'm looking forward to getting a medal. So I'm going to go back and train hard so that I can get a gold medal in my home country."
While she didn't earn a place on the podium, Leina Durand of New Caledonia brought strength, determination and inspiring story to today's competition.
Durand, who had a baby in April, was back in the ring competing today and earned a fourth-place finish with her throw of 45.52m.
Durand became emotional as she read the results of the competition and, when asked why, explained: "It's a great moment because I gave birth in April so I'm very happy with this performance - I'm crying because I'm thinking of my baby". Her throw today was also a season best, topping a mark she achieved in January when she competed while pregnant.
"For my next competition I want to do my best, to return to the same level as before I gave birth, so I want to throw 50m."
Nine women competed in the hammer throw today, representing six Pacific nations: New Caledonia, Guam, American Samoa, New Zealand, Papua New Guinea, and Australia.