Tonga claims gold in nail-biting men's high jump
Athletes at the Samoa 2019 XVI Pacific Games men's high jump competition reached new heights on Tuesday, with Tonga's Mosese Foliaki taking gold and a tense-tie break resulting in joint silver medalists.
Foliaki comfortably secured gold at Apia Park Stadium with a jump of 2.06 metres, but determining silver and bronze was a much tighter process. After Fiji's Malakai Kaiwalu, countryman Waisea Jikoiono and Papua New Guinea's Peniel Richard all cleared 1.99m, a tie-break was required.
The trio again cleared the height but, with Jikoiono missing one of his attempts, the silver medal was awarded to both Kaiwalu and Richard. No bronze was given.
Read more: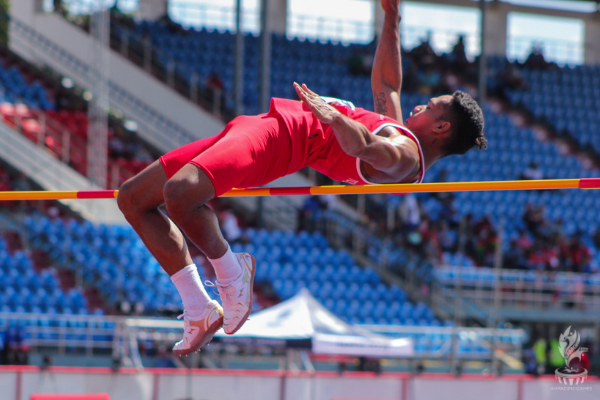 Tonga's Mosese Foliaki won gold in the men's high jump with a leap of 2.06 metres, but the battle for silver was much tigher (Credit: Pacific Games News Service)
Waiting to jump until the bar was set at 1.93m, Foliaki exuded a calm and strong presence in the competition area.
To cheers of "Go Tonga, Go!" and loud enthusiasm from the crowd, Foliaki also broke the Tongan record, which was previously 2.05m and also his personal best.
"I came into the field this morning very confident, believing in God and the preparation I'd done for myself", Foliaki told the Pacific Games News Service.
"It means a lot to me to have the gold. I was targeting a new personal best, my old one was 2.05m, and today I got 2.06m" a thrilled Foliaki added. The 19-year-old was surrounded by friends, family, and teammates on the podium after receiving his gold medal.
Despite having to share the silver medal, Kaiwalu and Richard remained positive. "I am happy with what I've got and I have been competing against him (Richard) since 2016 so we know each other very well," Kaiwalu said.
Richard shared similar feelings to Kaiwalu. "For this competition it is very satisfying because I haven't been doing high jump much this year," he revealed. "Instead I have been focusing on my long and triple jump and my strongest event is the triple jump. But, yes, to share the medal with him (Kaiwalu) is a surprise and I am satisfied."
Team PNG was out in full force supporting Richard during his event. With fans surrounding the men's high jump mat in the stands and on the sides of the track, the energy and cheers of support from PNG filled the stadium.
"I was pumped! I loved it, I love the PNG crowd and Samoa has friendly people as well so the atmosphere was amazing," Richard added.
Fourteen competitors from nine Pacific nations competed in the men's high jump: Tuvalu, Tahiti, Samoa, Wallis and Futuna, Vanuatu, Kiribati, Fiji, Papua New Guinea, and Tonga.