Australia continues taekwondo gold rush
Australia walked away with gold medals in all weight classes in taekwondo at Samoa 2019 XVI Pacific Games second day of competition, in a riveting show of strength and focus to win ten medals.
Karim Dighou, one of the Australian head coaches speaking on behalf of the team, said: "We know our standards are a little bit higher, so it was a must for us to win gold. That was the goal, but we did have two or three close matches."
One of those was the men's under 54kg between Mackenzie Singleton (AUS) and Bobby Willie of Papua New Guinea, the defending gold medalist from the 2015 Pacific Games in Papua New Guinea.
From the moment the first round began it was clear that the pair were evenly matched in terms of speed and agility, with neither opponent being able to keep the lead in the first round.
Read more: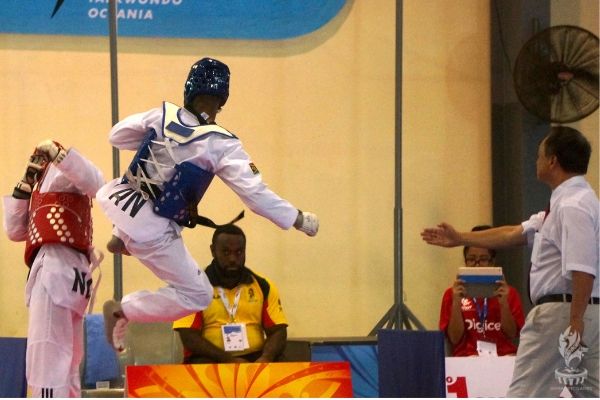 However, Willie proved that experience was a priceless asset by landing multiple strategic hits to the body as well as two consecutive spinning kicks to the head during the second round, leading 18 to 16 points.
Singleton retaliated with a volley of high speed attacks to try and close the gap, but seemed to be no match for Willie's intuitive precision and iron focus, leaving the point margin at 33 to 45 with only 30 seconds left on the clock.
Miraculously, under the pressure of adrenaline and a few lucky hits Australia managed to scrape through with the gold, winning by only a single point of difference, 47 – 46.
"I'm here to defend my title, but I couldn't," said Willie after falling to his knees at the culmination of the match.
"So right now, seeing the time run out, I couldn't hold back my tears. I'm extremely disappointed but there is always a winner and a loser, so it's ok."
Willie expressed gratitude to his friends, family, team and coach as he moves his focus to the next goal: "I'm training hard to qualify, my dream is to go to the Olympics."
Another highlight of the day was the senior female under 62kg finals between Rebecca Murray (AUS)
and local fan favourite Taumaia Mavaeao Samau of Samoa, who bested her semi-finals competitor Victoria Arsapin (NZ) by a wide margin of 23–5 points.
Despite proving to be a vicious and formidable opponent in her previous matches, Mavaeao could not overcome multiple harsh strikes to the face as Murray utilised her superior reach, due to significant height difference.
Nevertheless, Murray was riveting to watch, executing complex back kicks and snatching the gold after three hard-won rounds and through it all the cries from the crowd were deafening to show support for both sides.
This was Samau's first time competing in the Pacific Games and when asked about the experience she said: "All the glory goes to God because he's done so much for us, and I'm proud of myself and satisfied with what I achieved today.
"We didn't have much time to train, but we trained hard just to make our supporters and our country proud."
Another match which proved the importance of one's height in taekwondo was the senior female over 73kg weightclass final between Reba Stewart (AUS) and Taylor Shaw (New Zealand), both of whom towered over their competition in previous semifinal matches.
In her semifinal match with Monica Maunia (Solomon Islands), Shaw executed near-constant high kicks to her opponent's head, but struggled to do so in her finals match with an opponent who matched her in height. This left Stewart to walk away with the gold.
"I had to keep pushing, I had to try and catch up so I was chasing points to try and score but unfortunately it didn't happen," Shaw said, though she is not discouraged as this only motivates her to do better in the Oceania tournament this coming Friday.
"I want to do better then, hopefully get into the final and turn this silver into a gold."
Other results:
Serena Stevens (AUS) defeated Rosemary Tona (PNG) (-46kg)
Tamzin Christoffel (AUS) defeated Anegha Narayan (FIJI) (-49kg)
Yasmina Hibic (AUS) defeated Tierra-Lynn Chargualaf (GUM) (-53kg)
Carmen Marton (AUS) defeated Amber Toves (GUM) (-53kg)
Ruth Hock (AUS) defeated Emily Kwoaetolo (SOL) (-67kg)
Safwan Khalil (AUS) defeated Finn Olsen-Hennessy (NZL) (-58kg)