What to watch on day 9
There is plenty to see and do as we reach the midpoint of the second week of the Samoa 2019 XVI Pacific Games.
Twelve SPORTS are on offer today: Athletics, Basketball 5 x 5, Boxing, Judo, Netball, Sailing, Shooting, Squash, Taekwondo, Tennis, Touch and Volleyball.
Athletics hurdle, run, and throw themselves into day 3 of the 6 day competition.
This is the third day.
Papua New Guinea will be a team to watch as they scooped the medal pool at the 2015 Pacific Games with a total of 62 medals including 23 gold.
Today's action starts at 3.30pm and doesn't stop until 8.30pm and every day includes a medal ceremony.
Entry is SAT$5.00 at Apia Park Stadium.
Expect a huge, emotional rollercoaster of a day because its medal day at Basketball 5 x 5.
This is what the crowds have been waiting for.
Head to Gym 2, Faleata for the last twelve hour day starting at 9am until 9pm
Entry is SAT$5.00 at the venue.

Boxing drew large crowds yesterday at Don Bosco College as Savaii celebrated hosting the boxing for the first time. The action kicks off today at 11.30am and the last punch will be thrown at 5pm.
Entry is SAT$5.00 at the venue.
Judo enthusiasts will be excited for the second and last day of action at Gym 1, Faleata.
Yesterday New Caledonia crowded the podium. Could it be the same today?
Entry is SAT$5.00.
Netball will throw itself into day 3 of 5.
Be court side at 1pm for the first game of the day and stay until 9pm at the Multi-Sport Centre at Faleata.
Entry is SAT$5.00.
Sailing is on day 8 of 10. This is the last day of sailing before medals are decided tomorrow and Friday.
Entry is free at Sheraton Beach Resort, Mulifanua.
Every day is medal day during the Shootout at the Range.
And records are being broken.
Today is day 3 of the shooting competition at at Tafaigata Shooting Range today.
The first shot goes off at 9am and cease fire is at 5pm.
Entry is free.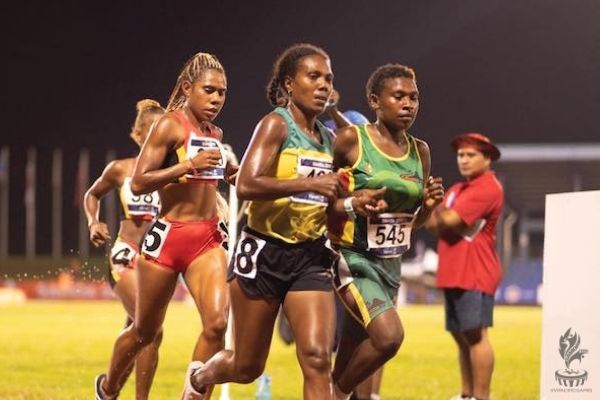 Dramatic non-stop action at the Athletics (Pacific Games News)

Squash racquets are at the ready for play on day 9 of 11 at the Squash Courts, Faleata.
Be there at 10.30am to see the first serve. Action will continue until 7.30pm.
Entry is free.

Block out your calendar to watch the skill that is taekwondo at the Harvest Centre,
Today is day 2 of 4 and every day is medal day at Taekwondo.
Entry is free.
Tennis continues to be a crowd pleaser at Apia Park.
Day 9 of competition and the stands are never empty.
Watch the action from 9am.
Medals are decided in 2 days so it's tense out there. The last match is scheduled to finish at 8pm. Entry $5.00 at Apia Park.
It's the third day of touch and the first day medals will be decided.
Play at Marist St Joseph's Stadium in Lotopa will continue from 8.30am until 4.30pm. Be early as the stands fill up quickly.
Entry is SAT$5.00 at the venue.
Volleyball draws a huge crowd and continues to excite spectators on day 6 of competition at the NUS gym at 11am.
It is day 4 of Women's while the Mens competition is up to day 6.
Entry is SAT$5.00 at the National University of Samoa Gym.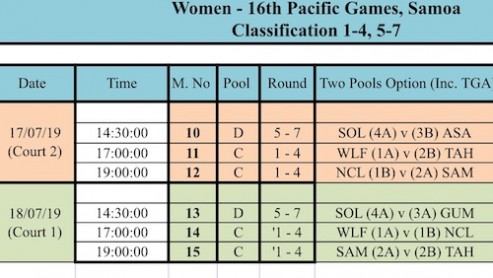 DAY 9, WEDNESDAY 17 July
0800
SQUASH Men's Mixed Double Preliminary Rounds
0830
TOUCH RUGBY Men's Open Round Solomon Islands vs Tonga
0830
TOUCH RUGBY Men's Open Round Cook Islands vs Tokelau
0900
SQUASH Women's Mixed Double Preliminary Rounds
0900
SHOOTING DTL Single Barrel (Individual)
0900
SHOOTING DTL Single Barrel (Team)
0920
TOUCH RUGBY Men's Open Round Papua New Guinea vs Samoa
1010
TOUCH RUGBY Women's Semifinal Papua New Guinea vs Fiji
1100
BASKETBALL 5x5 Women's Bronze Medal Match
1100
VOLLEYBALL Men's Guam vs Federated States of Micronesia
1100
TOUCH RUGBY Women's Semifinal Cook Islands vs Samoa
1150
TOUCH RUGBY Men's Semifinal 1
1150
TOUCH RUGBY Men's Semifinal 2
1240
TOUCH RUGBY 5th/6th Women's Playoff
1240
TOUCH RUGBY 5th/6th Men's Playoff
1300
BASKETBALL 5x5 Men's Bronze Medal Match Fiji vs Papua New Guinea
1300
VOLLEYBALL Men's Quarterfinal 1
1330
TOUCH RUGBY Women's Bronze Medal Match
1430
ATHLETICS Men's Hammer
1430
TOUCH RUGBY Men's Bronze Medal Match
1430
VOLLEYBALL Women's Match 10
1445
ATHLETICS Men's 400M Hurdles
1500
ATHLETICS Men's Pole Vault
1500
VOLLEYBALL Men's Quarterfinal 2
1510
TOUCH RUGBY Women's Gold Medal Match
1515
ATHLETICS Heptathlon Event 1 Women's 100M Hurdles
1530
ATHLETICS Men's 200M
1530
BASKETBALL 5x5 Women's Gold Medal Match
1530
NETBALL Game 10, Pool A Solomon Islands vs American Samoa
1545
ATHLETICS Heptathlon Event 2 Women's High Jump
1600
TOUCH RUGBY Men's Gold Medal Match
1600
ATHLETICS Men's 1500M
1615
ATHLETICS Women's Discus
1620
ATHLETICS Men's Hammer MP
1630
ATHLETICS Women's 10000M
1650
ATHLETICS Men's 1500M MP
1700
ATHLETICS Heptathlon Event 3 Women's Shot Put
1700
VOLLEYBALL Women's Match 11
1730
ATHLETICS Women's 400M
1730
VOLLEYBALL Men's Quarterfinal 3
1740
ATHLETICS Men's 400M
1750
ATHLETICS Women's 10000M MP
1800
ATHLETICS Men's Pole Vault
1800
BASKETBALL 5x5 Men's Gold Medal Match Tahiti vs Guam
1800
NETBALL Game 11, Pool A Papua New Guinea vs Tonga
1810
ATHLETICS Heptathlon Event 4 Women's 200M
1815
ATHLETICS Women's Discus MP
1825
ATHLETICS Men's 4x100M Relay
1840
ATHLETICS Women's 400M MP
1847
ATHLETICS Men's 400M MP
1900
VOLLEYBALL Women's Match 12
1930
VOLLEYBALL Men's Quarterfinal 4
2030
NETBALL Game 12, Pool B Samoa vs Cook Islands
BOXING
AM
BOXING Light Fly 46-49kg NAMRI Berry (VAN) vs TETEKANA Clinton (SOL)
PM
BOXING Fly 52kg RUA Tearii (FPO) vs MIKA Alex (SOL)
PM
BOXING Fly 52kg COOK Yachen (NRU) vs KEAMA Charles Fauma (PNG)
AM
BOXING Light Welter 64kg FANDOUX Thanh-Guy (NCL) vs UME John (PNG)
AM
BOXING Light Welter 64kg KIA Henry (SOL) vs FAAUILA Alai (SAM)
AM
BOXING Light Welter 64kg SILAS Johnny (VAN) vs STEVEN Tevii (KIR)
AM
BOXING Light Welter 64kg DAUPHIN Raphaela (FPO) vs DAVULE Jone Koroilagilagi (FIJ)