Australia, PNG enjoy 400m hurdle success
Australia's Ian Dewhurst set a new Pacific Games record as he streaked to gold in the men's 400m hurdles at the Samoa 2019 XVI Pacific Games on Friday, while Papua New Guinea's Donna Koniel retained her title in the women's race at Apia Park Stadium.
In the men's event, Dewhurst claimed gold in 50.86 seconds while Papua New Guinea scooped the other two medals via Daniel Baul, who took silver in 51.80 seconds, and Ephraim Lerkin, who claimed bronze in 52.82 seconds.
Dewhurst's record-breaking performance was the result of great training in the lead-up. "I've been preparing really well back home in Australia. I'm from Perth, and so coming over here I just had to really focus on good warm-ups and good hydration leading in because it is so hot here," he told the Pacific Games News Service.
Read more: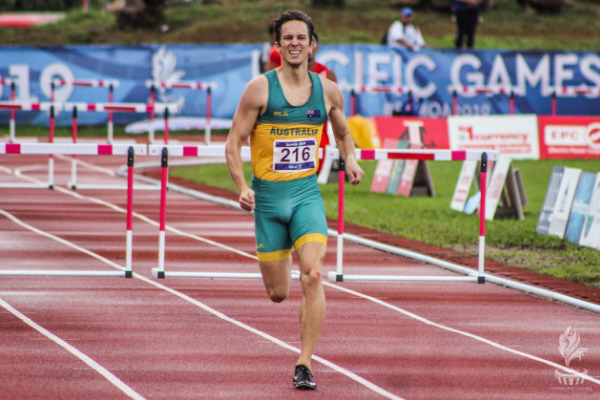 Ian Dewhurst of Australia set a new Pacific Games record in winning the 400m hurdles (Credit: Pacific Games News Service)
"I think a combination of being prepared away from the track, and mentally and physically trying to switch myself on out there, helped to get the win."
Dewhurst said the opportunity to participate in the Pacific Games, in which Australia competes in selected sports by invitation, is one he has relished.
"It's very exciting, the Pacific Games are only every four years so to get up here and run against all of the really good Pacific island countries is exciting, and it's very satisfying to get a win."
Silver medalist Baul beamed with pride. "I would like to dedicate this medal to my Dad, coach and our team manager. And a last encouragement to the young athletes out there: just keep doing what you love doing and become the best athlete that you would like to become," he told the Pacific Games News Service.
His PNG teammate Lerkin said perseverance was the secret to his success. "My first event was the 800m on Monday and I was nervous and I didn't have any confidence during the first race, but I won the heat and it was a big experience, and it motivated me to stand up tall and work towards the following days."
In the women's event, Koniel retained her title, finishing in 1 minute, 0.14 seconds. Fiji's Ana Baleveicau secured silver in 01:01.01 while Annie Topal of PNG won bronze in 1:02.39.
Koniel, who is 26, was pleased to maintain her status as champion of the 400m hurdles. "It is my passion to be in this sport. I have been training since 2015 (the last Pacific Games) and I will be dedicating this medal to my daughter and my husband."
Baleveicau admitted she had one thing on her mind during the race: win. "Basically my mode was battle mode. I wanted this gold so bad, but I'm still thankful that I came second because I still managed to set a national record, and I also came with that purpose, so I'm happy that I fulfilled that."
When asked what she learned from this experience, bronze medalist Topal said: "One thing that I will take out of these two weeks of competition is to have a lot of confidence in myself. I am also very happy to be training alongside Donna (Koniel) because she always talks to me and gives me confidence."