Lauren Sale Wins Gold for Samoa in Women's Swimming
New Caledonia was expected to dominate the women's individual events on the first day of swimming at the Samoa 2019 XVI Pacific Games, but Samoa's Lauren Sale had other ideas.
After winning all but one of the women's individual swimming gold medals at the Port Moresby 2015 XV Pacific Games, New Caledonia were hot favourites at Samoa 2019. Lara Grangeon (NCL) is not competing here, so the focus is on Emma Terebo (NCL), who won five golds in 2015.
However Terebo was disqualified from Tuesday's 200m backstroke final at Aquatic Centre Faleata and was again disqualified during the preliminary rounds on Wednesday morning in the 50m backstroke.
With Grangeon missing and Terebo's disqualifications, up and coming athletes are on the prowl for the podium at this year's event.
One of these competitors is Samoa's Lauren Sale from the village of Sataoa Safata on Upolu who did not compete at Port Moresby 2015, but placed first overall in the preliminary round of the women's 200m backstroke.
After the preliminary round, Sale said: "I feel really good. That was a best time for me. Prelim swimming is always kind of hard—I'm glad that's over. It's a lot more fun in finals."
Read more: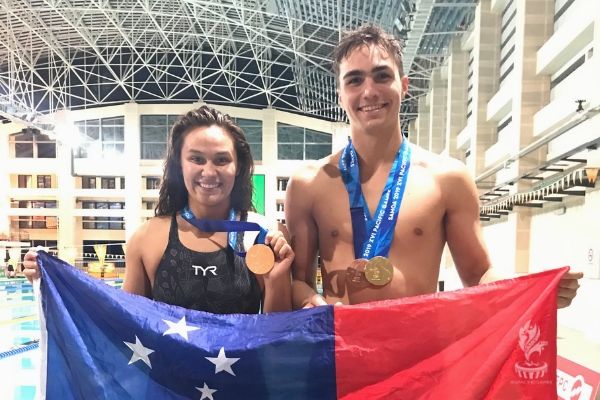 Lauren Sale and Brandon Schuster celebrate gold on the first day of swimming finals (Credit: Pacific Games News Service)
In the finals on Tuesday evening, Sale won gold for Samoa in the 200m backstroke. Following her momentous win, she said she was emotional on the diving block when she heard the cheers and cries of her home country.
"I almost cried before my race!" Sale exclaimed after winning the only gold of the night for Samoa's women's swimming team.
Sale is competing in two races on Wednesday night, the 50m backstroke where she is ranked sixth overall and the 100m butterfly, where she is ranked second overall.