Exciting first night of Swimming finals
A raucous crowd packed Aquatic Centre Faleta for the opening night of swimming finals at the Samoa 2019 XVI Pacific Games.
The first event of the evening was the men's 200m breaststroke.
Taichi Vakasama (FIJI), who did not swim during the preliminary rounds, won gold for Fiji with a time of 2 minutes 18.26 seconds. Ryan Maskelyne (PNG), won silver in 2:14.98 and home town favourite, Brandon Schuster, received the bronze medal with a time of 2:18.26. This is Fiji's first medal in men's swimming since the 2011 Pacific Games.
In the women's 200m breaststroke, Tahiti's Poerani Bertrand received gold with a time of 2:40.73. Moana Wind brought Fiji a second medal of the evening with a silver and New Caledonia's Adelaine Williams, the Port Moresby XV Pacific Games silver medalist placed third, finishing in 2:51.70.
Bertrand said she was proud to win the first gold medal for her country in Tuesday's event.
For the distance swimming event of the evening, 17-year-old Maiana Flament (NCL) scorched her competition with a time of 9:21.39 while her teammate, Charlotte Robin placed second in 9:37.72. Bringing Fiji its third medal of the night was 16-year-old Rosemarie Rova winning bronze.
"I feel very happy. It's my first Pacific Games. I was working for three months," Maiana said.
When asked about training for the distance race, she said with a chuckle, "training is too long for too many ways".
She will also be swimming in the 400m individual medley and the relay competition on Wednesday.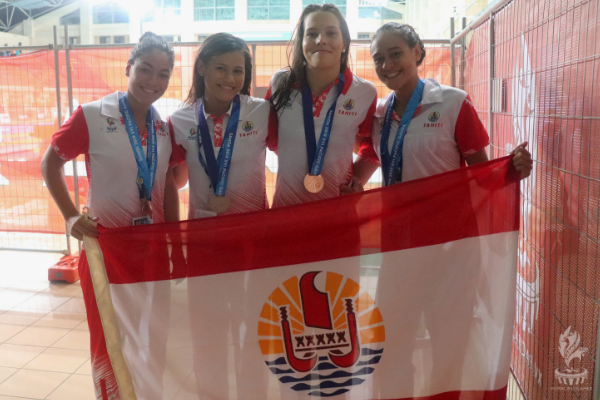 Nicolas Vermorel brought Tahiti their first men's gold medal of the evening, winning the 50m butterfly in 24.04.
New Caledonia's Florent Janin and Thibaut Mary took home silver and bronze in a race that was decided by less than one second.
In the women's 50m butterfly, May Toven and Armelle Hidrio (NCL) took home gold and silver, while Samoa's Lushavel Stickland won bronze.
The athletes put on a show in one of the most anticipated events of the evening, the 200m backstroke.
The men's race was heated for three laps before Brandon Schuster (SAM), who set a new personal best during preliminaries earlier in the day, emerged in the last lap to win Samoa's first gold medal of the evening with a time of 2:08.48.
"I'm pumped for the rest of the competition," said Schuster. "Last Pacific Games, we only won two medals and now we already have four on the first day."
Manuarii Lechene (TAH) won silver and Hugo Savignac (NCL) won bronze.
Lauren Sale (SAM) won gold in the 200m backstroke in emphatic fashion in a time of 2:20.84, nine seconds faster than second-placed Angeline Tregoat (TAH). Maiana Flament (NCL) won the ninth medal of the evening for New Caledonia with a bronze.
New Caledonia capped off the evening with another dominant performance with wins in both the men's and women's 400m medley relay.

Tahiti won silver for the men and bronze for the women, while Fiji won bronze for the men and silver for the women.
In the first night of the Swimming finals at the Aquatic Centre, New Caledonia won 11 medals, four of which were gold.

Tahiti won six medals including two gold.

Fiji had five medals including one gold while Samoa, won four medals, half of which were gold. And Papua New Guinea reached the podium with one bronze medal.
"This was a good first day because we wanted to win 10 medals and we won 11," said New Caledonia team manager Cyril Huet. "We'll try. It will be a hard day tomorrow, but we will try. I think there will be six or seven medals tomorrow."
Swimming finals continue at Aquatic Centre Faleata on Tuesday evening from 6pm. Entry is $5.